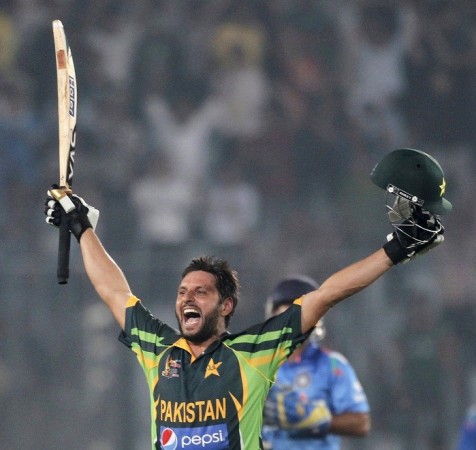 India vs Pakistan, the closer the match gets, the more the anticipation builds-up, and Shahid Afridi has given his two pence ahead of the crunch ICC Cricket World Cup 2015 encounter.
Pakistan's record against India at the World Cup is now a well-known fact, with the men in green unable to win a single one of the previous matches.
The Star Sports advertisement doing the rounds might have captured that particular anguish of a Pakistani fan pretty well, and Afridi is hopeful he can give his country some much-awaited joy by beating India in their opening match of the World Cup on Sunday.
"There is always a first time," said a hopeful Afridi before Pakistan went on to beat Bangladesh in a WC warm-up. "I know it is a crunch game for both the teams and fans from all over the world are coming to see it.
"The hotels have been booked months in advance. There is so much hype and the expectations of the fans are enormous. However, we have the confidence and the ability to surprise any team on give day.
"But, both the teams know how to handle pressure. On our part, we plan to treat it as just another game. However, being the first game in World Cup, both will be desperate to start with a win, so that they can take the momentum and confidence into the remainder of the tournament."
Tickets for the India vs Pakistan match sold out before you could blink a couple of times, and such is the hype surrounding the big game already that it would be a pity if it turned out to be a bit of a damp squib – possible considering both sides are not in the greatest of forms at the moment.
But then, there is a bit of a difference between a damp squib and an India vs Pakistan damp squib, isn't it, and Pakistan, in particular, will be extra motivated to start their World Cup campaign in the best possible manner – by doing something no previous team has been able to do in this quadrennial event.