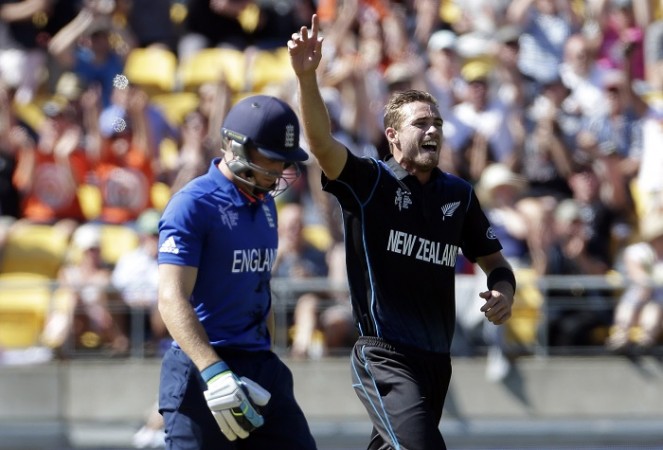 England came into "The Cake Tin" expecting, wanting, hoping for a reversal of fortunes after their thrashing at the hands of Australia in their ICC Cricket World Cup 2015 opener. However, they did not, and could not, account for Tim Southee, who showed the beauty of outstanding swing bowling to the absolute hilt to shatter England hopes in a hurry.
Southee was good, unstoppable, unplayable, and then some in his haul of seven for 33 in 9 overs – his career best figures, and the best ever by a New Zealander -- chopping down the two England openers – Ian Bell and Moeen Ali -- before smashing through the middle order with an outswing bowling masterclass.
England could not cope with Southee's pace, skill and accuracy and that meant a miserable score of 123 all out in 33.2 overs, leaving New Zealand with a simple chase, a chase they surely were not going to falter in, not with the mood that Brendon McCullum was in.
McCullum (77, 25b, 8x4, 7x6), high from that incredible bowling spell from Southee, wanted to finish off the game in the first session, smashing the likes of James Anderson, Stuart Broad and Steven Finn to all parts of the ground, much to the delight of the capacity Westpac Stadium crowd. There were only two real options for McCullum, a four or a six, and with the third one, which never came often enough, being a dot ball.
The New Zealand skipper hammered all the England bowlers with consummate ease – Anderson was not getting half the swing that Southee did – and just like that he got to a half-century in just 18 balls to become the record holder for the fastest fifty in World Cups and the third quickest ever in ODIs.
The result of the McCullum onslaught – he was picked up by Chris Woakes just before the end of the chase -- was New Zealand bulldozing their way to victory, which they did in 12.2 overs, after returning from the mid-innings break, a break that was absolutely ridiculous, with the home team needing just 12 runs more.
Earlier, all the drama unfolded, after England decided to bat first after winning the toss, and how Eoin Morgan, who still cannot score runs, will be ruing that decision now.
New Zealand are a tough enough team to handle at the best of times, but when the ball is swinging, they become vastly more potent.
It was all Southee from the off, though, getting that ball up to the stumps, keeping the seam dead upright and letting the atmosphere do the rest – even Southee himself could not give a clear answer as to why the ball moved so much in Wellington.
The ball just kept talking and talking, and Ian Bell could do little off a jaffer – and there were plenty more of those coming from Southee – that tailed in, before just swinging away a touch and clipped off stump.
Moeen Ali was Southee's next victim, with the New Zealand bowlers softening him up with a few short ones, before their main man found the perfect yorker to get another wicket.
Gary Balance was the man again for England at No.3, and the left-hander did not do his job well enough, spooning a catch to Kane Williamson in the covers to give Trent Boult his first and only wicket.
At 57/3 in the 14th over, England needed Joe Root and Eoin Morgan to stage a revival, and it looked like they might do that, with some patient batting.
However, 47 runs together was all she wrote for the duo, with Morgan throwing his wicket away, a wicket which opened the floodgates. Morgan was trying to take on Daniel Vettori from ball one, without too much success, and another attempt at domination only resulted in a loft to long-on and a stellar diving catch from Adam Milne.
Brendon McCullum, always the attacking captain, sensing an opening, brought Southee back on, and from there it was absolute carnage.
First, James Taylor received an absolute ripper – bowled from wide of the crease, tailing in initially, before swinging out late and clipping off stump – from Southee, and Jos Buttler followed suit with a poke outside off and an edge.
Chris Woakes could do very little to another unplayable delivery from Southee, which gave the fast bowler a five-for, and with it making him only the third Kiwi to do that in a World Cup after Sir Richard Hadlee and his bowling coach Shane Bond.
Wicket number six came Southee's way via a careless Stuart Broad, before the quickie became the man with the best ever figures in ODIs for New Zealand via another outswinger and edge.
The crowd were roaring Southee on to take his eighth wicket – and thus become the bowler with the best figures ever in a World Cup – but it was Adam Milne who finished things off as Joe Root (46, 70b, 3x4), the only batsman who put up any kind of resistance, top-edged a pull.
New Zealand's chase was brutal, only adding more misery to England, and if they don't recover from this quickly, they might just be staring at an early exit from this World Cup.
Get the Scorecard of the match HERE