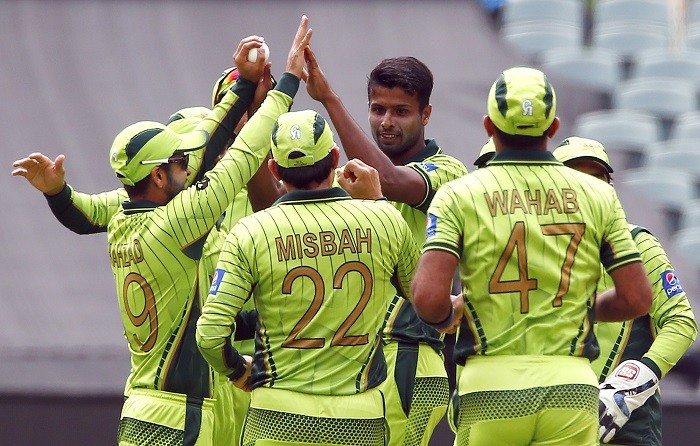 With West Indies thumping UAE and piling on the pressure, both Pakistan and Ireland needed to hold their nerve to seal a place in the quarterfinals of the ICC Cricket World Cup 2015. In the eye of elimination or possible glory, Pakistan came to the fore with bat and ball, while Ireland found it difficult to stay afloat.
At the end of the group stages, the Pool B standings finished on expected lines following Pakistan's big seven-wicket win over Ireland, with the 1992 champions now preparing themselves to face Australia at the same ground they sealed their place in the quarters – the Adelaide Oval.
Ireland won the toss and chose to bat first, which in hindsight might have not been the greatest of decisions. Ireland's strength is their batting, and they might have had a better time of it chasing down a target rather than defending one.
However, Ireland's bowlers were not given a good enough score to defend in the first place, after the batsmen kept losing their wickets to the disciplined Pakistan bowlers, sans the injured Mohammad Irfan, with even William Porterfield's hundred only enough to take them to 237 all out in their 50 overs.
Even if Pakistan's batting had been dodgy, they were always going to get to the target, and that feeling only increased when Ahmed Shehzad and Sarfraz Ahmed put on a century partnership for the opening wicket.
Shehzad (63, 71b, 7x4) and Sarfraz (101 n.o., 124b, 6x4) played quite intelligently up front, ensuring no wickets fell in the first few overs, before opening up with ease once that big over came. Ireland's only hope of making a fist of this match was to pick up early wickets, but their slow-medium bowlers were not penetrative enough on the flat wicket, and once the contest started to run away from them, a bit of sloppiness creeped in as well, with catches going down and misfields adding to the misery.
Pakistan have not been able to have a real solid partnership up front all World Cup, but after a decent opening against South Africa, Sarfraz and Shehzad really found their groove in this most important of games.
The openers cruised to 120 – and it really was a cruise – before Shehzad fell, giving a catch to Ed Joyce at mid-on after mistiming a pull off Stuart Thompson. Ireland were given a glimmer of hope when Haris Sohail was run out soon after, but those hopes were snuffed out quickly enough as the calmer-than-the-word-calm-itself Misbah-ul-Haq came into the middle.
Misbah (39, 46b, 3x4, 2x6) and Sarfraz (, with the required run rate at below 5, eased the ball for singles and twos, with the odd boundary in between, to take Pakistan close to a win with considerable ease, with the skipper falling late in the piece via a rare hit-wicket dismissal when he went back a little too far and saw his right foot clip the off-stump.
The only real excitement (or man when will this end!, depending on your perspective) towards the final stages of the match was if Sarfraz would get his maiden ODI hundred, with Umar Akmal coming in and smashing a few boundaries and a few of the Ireland wides adding to the drama. But, justice was done as the opener reached those unforgettable three-figures with a four over midwicket, leaving Umar Akmal to take the final run to complete the victory.
Earlier, Porterfield's hundred went in vain, as Ireland's poor shotmaking meant wickets kept falling at regular intervals. Paul Stirling could not hang on long enough to make his usual impact up front, while the crucial left-handers Ed Joyce and Niall O'Brien fell to catches by Umar Akmal in the covers.
Every time Ireland looked like rebuilding their innings and getting some sort of momentum, a wicket fell, with Porterfield (107, 131b, 11x4, 1x6) and Gary Wilson's (29, 38b, 2x4) wickets in the 39th and 41st overs ending any hopes of a big Irish score.
The Pakistan bowlers did what they had to do in the final overs, quelling the boundaries and picking up wickets to stop Ireland and give their batsmen an easy chase.
Get the Full Scorecard of the Match HERE