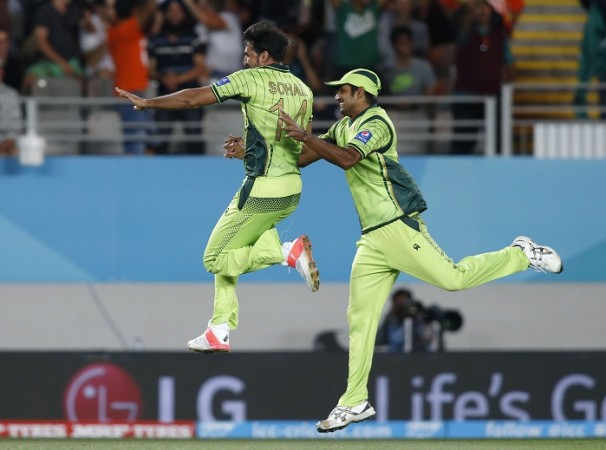 Give the Pakistan bowlers a decent target to defend, they will make a real fist of it – even with magic man AB De Villiers on the other side.
After falling away towards the end with the bat, and only managing 222 in a rain-curtailed match of 47 overs, Pakistan looked primed for another loss against a big team at this ICC Cricket World Cup 2015, especially with the immense firepower that South Africa, a team that have crossed 400 twice in this tournament already, possess.
But, courtesy their seriously talented wicket-taking left-armers – Mohammad Irfan, Wahab Riaz and Rahat Ali -- Pakistan cut through the South Africa top order, and then the middle order and then the lower middle-order, with only the best batsman in the world standing in their way.
De Villiers, watching wickets tumble one after the other at the other end, had to produce another magical innings to take South Africa home, and it looked like he just might do that, with South Africa on 200 in the 33rd over.
But then came the wicket that virtually gave Pakistan victory, with Sohail Khan, the only right-arm fast bowler in the side, getting the prized wicket of De Villiers, who was quickly and surely taking the game away from them.
With De Villiers (77, 58b, 7x4, 5x6) gone and over 30 runs to play with and only one more wicket to take, Wahab, who, with a tremendous spell of bowling alongside Rahat Ali swung the match Pakistan's way earlier on, finished things off, inducing the nick off Imran Tahir to cue the wild celebrations and probably Pakistan's resurgence in this ICC Cricket World Cup 2015.
Eden Park in Auckland does seem to have the penchant to throw up plenty of drama after hosting that incredible match between New Zealand and Australia last week, and this was a thriller as good as any, with Pakistan walking away with smiles as wide as the Grand Canyon just as the rain came down for another spell.
The target, owing to a couple of rain interruptions and the Duckworth-Lewis Method coming in, was increased to 232 from 223, and Pakistan sensed a way in when Mohamad Irfan picked up Quinton De Kock, who failed with the bat again, in just the second ball of the innings.
However, that way in was shut by Hashim Amla and Faf Du Plessis, who put on 67 runs in just 9.1 overs to seemingly run away with the game.
But then came a momentous collapse from South Africa, as they went from 67/1 to 77/5, before the returning JP Duminy, after a brief stay, also fell to leave South Africa on a precarious 102/6. Riaz and Rahat Ali triggered the collapse and Pakistan kept the pressure up, with Dale Steyn succumbing to it by gifting his wicket away after a 36-run partnership with De Villiers, which had taken South Africa a little closer to victory.
Kyle Abbott came in and looked pretty solid, putting on 34 runs, but De Villiers' decision to give him plenty of the strike worked against them as Rahat Ali picked up the crucial wicket by finding the outside edge.
With only Morne Morkel and Imran Tahir left and 60 more runs to get, De Villiers had to go for it, even with plenty of balls still remaining and the required run rate below three, but there is only so much one man can do and Sohail followed the right-hander via a short ball, which took the outside edge through to the wicketkeeper Sarfraz Ahmed to send Pakistan in delirium.
Earlier, Misbah-ul-Haq (56, 86b, 4x4) was the glue that held the Pakistan batting together again, with man-of-the-match Sarfraz Ahmed (49, 49b, 5x4, 3x6), who also took six catches behind the wickets on his World Cup debut, playing a pretty good run-a-ball 49 at the top of the innings to give Pakistan some momentum.
The returning Younis Khan (37, 44b, 4x4), in for the injured Haris Sohail, also played a decent hand, and even if Pakistan lost their way towards the end as they lost momentum after the rain delay, the runs scored were more than enough to stop the jittery South Africa batting attack in their tracks.
Get the Full Scorecard of the Match HERE