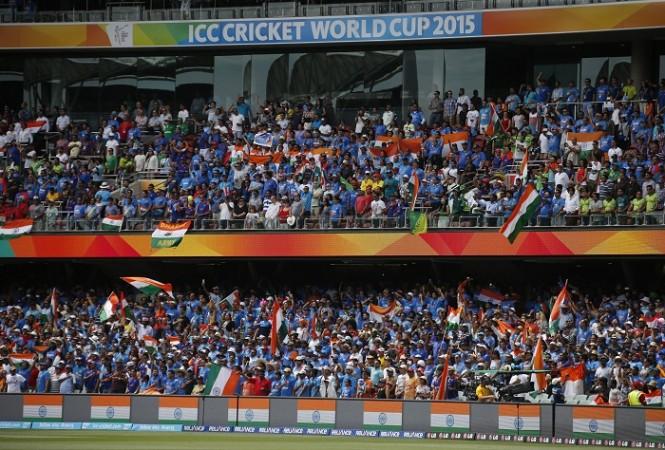 The long drawn out, but nevertheless quite enthralling, pool stages of the ICC Cricket World Cup is bye bye birdie, and it is time for the business end of the tournament, the part where you trip up once and it is "pack your bags and take a flight back home" time.
Of the eight teams to have qualified for the quarterfinals of the ICC Cricket World Cup 2015, only one of them is a bit of a surprise entrant, even though it must be said they are deserved qualifiers having played some outstanding cricket.
Below is the schedule, fixtures, timings and dates of the four quarterfinals with a small preview of what to expect along with the predictions.
1st Quarterfinal: 18 March: South Africa vs Sri Lanka (2.30 pm local time, 9 am IST, 3.30 am GMT, 10.30 pm ET) at SCG, Sydney: South Africa have been iffy at best so far at this World Cup, flexing their muscles one moment, and getting knocked down in another. There is no doubt the Proteas rely on their star men a little too much (that can, of course, be said of most teams) and if AB De Villiers, Hashim Amla and Dale Steyn don't come to the fore, South Africa will be in trouble.
To a large extent, Sri Lanka's fortunes also depend quite a bit on their three star batsmen – Tillakaratne Dilshan, Kumar Sangakkara and Mahela Jayawardene. Sangakkara has without doubt been the best batsman at this CWC so far, and Sri Lanka's plan should be to put a big total on the board batting first and with it put South Africa under pressure, via Lasith Malinga, something they haven't dealt with too well so far.
Prediction: The "chokers" story is put on hold for at least another game, as South Africa show just enough resilience to knock Sri Lanka out, with the legends – Jayawardene and Sangakkara – unfortunately bidding adieu.
2nd Quarterfinal: 19 March: India vs Bangladesh (2.30 pm local time, 9 am IST, 3.30 am GMT, 10.30 pm ET) at MCG, Melbourne: India have been playing like the champions at this World Cup, winning all six of their pool matches, and the biggest threat when they face Bangladesh, with 80,000-odd fans cheering them on, will be complacency. MS Dhoni's men have been doing the business with the ball time and again, and should the bowlers step up and be counted again, India should be able to book their passage into the semifinals.
The India batting has not been perfect, however, and with Bangladesh also hitting the straps well with the ball, the willow-wielders will need to be at their best to ensure that banana peel is avoided.
For Bangladesh, this match will be about playing without fear and with nothing to lose, they might just be able to land a few blows. Much will depend on how India play, though – if Dhoni's men are at a 100 percent, it will be difficult for the much-improved Bangladesh to trip them up.
Prediction: Another dominant enough display from India, even if Bangladesh give them a scare or three in between.
3rd Quarterfinal: 20 March: Australia vs Pakistan (2 pm local time, 9 am IST, 3.30 am GMT, 10.30 pm ET) at Adelaide Oval, Adelaide: Pakistan's resurgence has been one of the talking points of the pool stages, and Misbah-ul-Haq's men will look to carry on their merry way even in the face of the tournament favourites.
Australia remain the favoured team to clinch the title, and their performances in the pool stages have done little to change that thought. While the Aussies lot to New Zealand in possibly the best match of the group phase, they were pretty dominant in every other game, and with a loaded batting lineup and a feared pace attack, it will take a seriously inspired side to stop them making their march to the MCG on 29 March.
Pakistan are definitely capable of being that side, with their own bowling attack looking quite potent. The batting seems to be coming together at the right time, but then facing Ireland bowlers and the likes of Mitchell Starc and Mitchell Johnson are completely different things. If the Pakistan batting can stand up to the test, then we just might have a game on our hands.
Prediction: Mohammad Irfan, Wahab Riaz and the rest of the bowlers put in another encouraging performance, but Starc and Johnson trump them to help Australia to a semifinal date with India.
4th Quarterfinal: 21 March: New Zealand vs West Indies: (2 pm local time, 6.30 am IST, 1 am GMT, 8 pm ET) at Westpac Stadium, Wellington: The Kiwis have been extremely good, and look capable of winning their first ever World Cup title. In Brendon McCullum they have an inspirational captain, and with a bowling attack the envy of most, they are a force to be reckoned with for any team.
West Indies remain the "don't know what to expect" side, with a seriously talented batting lineup, capable of tearing any bowling attack, including New Zealand's, to shreds. The opening bowlers for the West Indies – Jerome Taylor and Jason Holder -- have also impressed, but if McCullum takes off, watch out. The fact that the quarterfinal will be at home for New Zealand is also bound to play its part.
Prediction: New Zealand fill the final semifinal place to ensure the four predicted semifinalists at the start of the tournament are the same, as the Black Caps prove to be too strong for the West Indies.