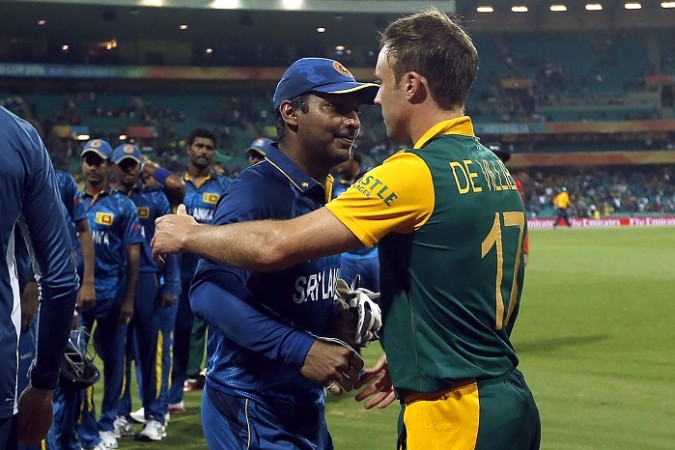 What an unfortunate way for two of the greatest batsman of this generation to bow out. Mahela Jayawardene and Kumar Sangakkara would have envisaged standing on that podium at the MCG and lifting the 50-over World Cup title for the first time in their careers as the perfect manner to bid goodbye – one for good, the other in the ODI format.
However, those dreams came crashing down on a humid afternoon at the SCG. Up against an inspired we-will-win-our-first-CWC-knockout-match South African outfit, Sri Lanka caved in rather alarmingly, with Jayawardene left looking like a rookie unable to read a spin bowler, of all things, and Sangakkara looking like he had forgotten this match was being played in coloured clothes.
Had they lost the ICC Cricket World Cup 2015 quarterfinal in a thriller against South Africa it would have been easier to swallow; but to lose by nine wickets, with 32 overs to spare, is not the kind of end that Sangakkara and Jayawardene deserved.
But then there is no room for sentiment in sport is there. "That is part and parcel of this game, you can't have everything you want," said Sangakkara to Star Sports after the match. "There is no fairy tale ending, you want to win the World Cup, but it was not to be."
On Wednesday, at the SCG, sentiment stayed well outside the contest and all that mattered was the team that handled the pressure better, and that was without a shadow of a doubt, and a touch ironically, South Africa.
"It's been a disappointing day, but when you look at the way we played, the most disappointing thing was we lost so many wickets to spin, considering the pace attack South Africa have," said Sangakkara.
"But that is how quarterfinals go. However, I'm pretty happy with my career. We always gave ourselves a chance, but losing a final is much more heart-wrenching than losing a quarterfinal, so in that way this is a little better," added the left-hander, who was on the losing side to India in the 2011 World Cup final.
Sangakkara and Jayawardene have been the most brilliant of partnerships, both on and off the field. No two players have scored more runs together, and it is a sad day for cricket to think that Mahela and Sanga will now never bat together in an international match.
"Our relationship was always good, there was never any rivalry, other than when we played the warm-up games," said Sangakkara with a grin when asked about his rapport with Jayawardene. "When I arrived, Mahela was already two years into the team, but when I walked in we were the same age, we hung out together, had dinner together, and we became fast friends.
"Batting with Mahela was always easy, you could just go under the radar and it was a privilege playing with him."
Sangakkara will look back at his final World Cup with a tinge of regret but a sense of achievement as well. To score four hundreds in a row is a feat that has never been achieved in ODI cricket before, and something that anybody should be proud of.
However, he will probably give away all of those four hundreds for another shot at the World Cup title.
Jayawardene will think, could it have been different had he walked in at No.4, instead of 5 and forged another one of those "how do these guys do it" partnerships with Sangakkara, or what if that pull shot off Tahir had fallen just a tad away from the fielder and given him a new lease of life.
"It's been tough, we've had a pretty good campaign so far. We did pretty much everything wrong today. Credit to South Africa, they bowled well up front, and we couldn't cope."
"We had a fairy tale time of it in the T20 World Cup, but this time it was different."
So many ifs and if onlys, but the one thing that cannot be taken away is their numbers and the mark they have made on not just Sri Lankan cricket, but world cricket.
Sangakkara, we will get to see a little bit more over the coming months in Test cricket, but Jayawardene's classy shots and delectable drives will now be consigned to memory, and boy are they some beautiful memories.