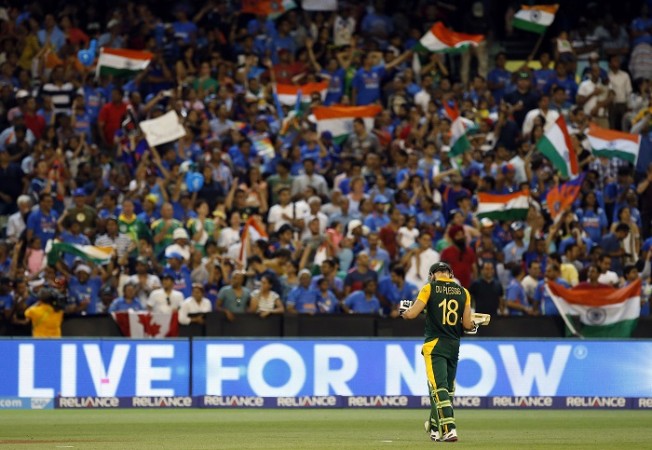 Being the defending champions, usually gives you an automatic spot amongst the favourites, but that was not particularly the case for India heading into this ICC Cricket World Cup 2015. It was understandable too, considering they had struggled in Australia, especially in the tri-series, where they looked like a jaded unit who did not know their best XI.
However, the opening two performances at this World Cup – wins, and comprehensive ones at that, over Pakistan and South Africa – have changed that "they're a good team, but just a rung below the favourites" tune a bit, with South Africa legend Jacques Kallis now among many terming India as one of the favourites for the title.
"India have suddenly moved from outsiders to amongst the favourites," Kallis wrote in his column for Cricket Australia. "Just as I said could happen a couple of weeks ago."
While India's win over Pakistan was quite impressive, the success against South Africa was just that notch higher. The Proteas came into this World Cup as one of the favourites alongside Australia and New Zealand, and they were also the favoured team in the battle at the MCG last Sunday.
However, India thoroughly outplayed them from start to finish, with South Africa having absolutely no answers, be that with the ball (barring the last few overs) or with the bat.
South Africa did not just have to overcome the 11 players on the field, but also the overwhelming support at the "G", with the vast majority of the 86,000-odd crowd baying for South African blood.
Kallis feels the fact that his former team did not rise to such a momentous occasion is actually as disappointing as the result in itself.
"It was a double disappointment losing to India at the MCG on Sunday, but it is so early in the tournament that the result could easily be forgotten in the years to come," added Kallis.
"The result was one thing, but failing to rise to such an incredible occasion will upset the players just as much.
"The opportunity to play in front of 86,000 doesn't come along very often in any player's career, but for some of the Proteas it may be a once-in-a-lifetime chance.
"To have beaten India with 90 percent of the crowd cheering for them would have sent a powerful message about their intent and done a lot to slow the momentum of the Indian team."