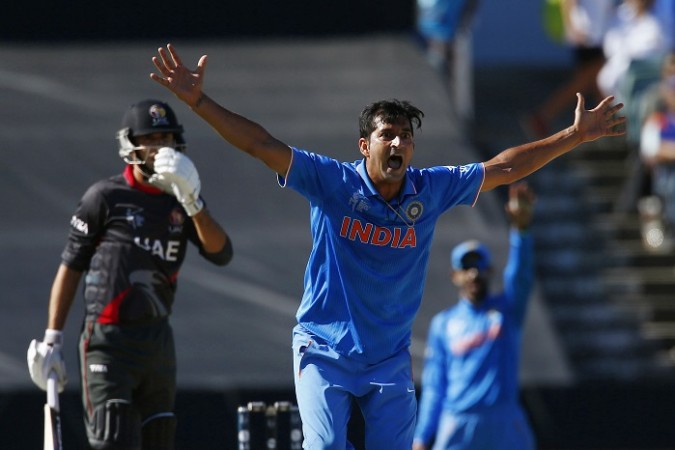 Mohit Sharma has been one of India's most consistent bowlers at the ICC Cricket World Cup 2015, shrugging away the fact that he was not originally selected in the 15 and only found himself in the playing XI owing to injuries to Ishant Sharma and Bhuvneshwar Kumar.
Being handed some luck and taking advantage of that luck are completely different things, and Mohit grabbed the opportunity with both his hands and his feet to become a crucial cog in Dhoni's bowling wheel at his CWC.
"Till now everything has gone well," Mohit told BCCI's official website. "I have been given a particular role and I feel I have played my role well.
"My role in the first two matches was to maintain the pressure created by Mohammad Shami and Umesh Yadav. Bowling a lot of dot balls at that time was crucial which helped in building more pressure on the batsmen to assist R Ashwin and R Jadeja later on."
That kind of bowler's value is immense at a big tournament. India have lacked that bowler who Dhoni can rely on to bowl six deliveries every over on the same spot and according to the field set, and Mohit has stepped into that role with ease. Against Pakistan, he put on a tremendous show of restrictive, defensive bowling, before picking up a couple of wickets towards the end, while the match against South Africa saw Mohit step up a gear.
India have gone along their merry way in the first three matches – winning all of them comfortably – and Mohit believes the team's true colours will come to light only when they are put under pressure in a game, something that hasn't happened so far.
"We have ticked all the boxes in the first three games," he added. "As a team, to be very honest, we haven't been put under pressure. None of the three matches have put us under the pump.
"We are still waiting for the pressure game and we will know how we perform when we are under serious pressure. We have been consistent till now, doing the hard work and the results are there to be seen."
That "pressure game" might come against the West Indies on Friday at the WACA in Perth, with the likes of Marlon Samuels, Dwayne Smith, Darren Sammy and Andre Russell looking to tee off against India, while Chris Gayle, of course, will be the prime focus.
"The Gayle factor would be there but when things are going well for you, you don't think about the individual," said Mohit. "At that time you only have the wicket in sight and that becomes your target.
"We know Gayle will try his best to get the better of us, but we also know that he will take a bit of time before he begins his attack. That is the time we need to bank on and get his wicket. When he is defensive, that is the time we need to attack."