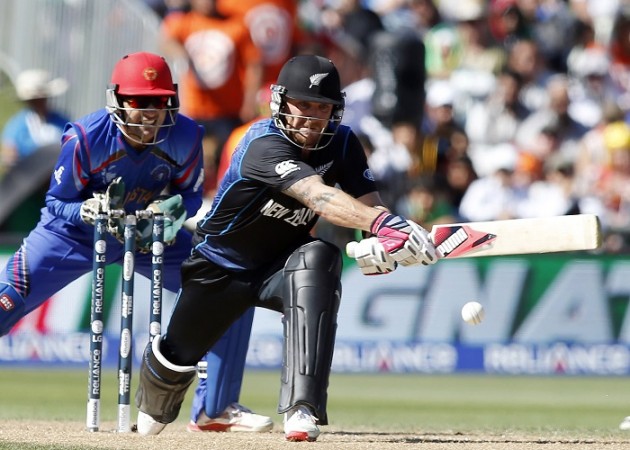 New Zealand and South Africa – two teams that have dared to dream of a first World Cup final and with it the title. One will be left picking up the pieces, the other will see that dream live for one more match come the end of Tuesday, and the big ICC Cricket World Cup 2015 semifinal at Eden Park in Auckland will be decided by a few key contests.
Brendon McCullum vs Dale Steyn: One a dasher, who lives the meaning of aggression, the other a marquee fast bowler, thriving on the great contests. South Africa might bring in a spinner early to counter McCullum, but if he gets a go at Steyn, it could just be the clash to rival all clashes.
Imran Tahir vs Kane Williamson: While Martin Guptill did the anchor job to absolute perfection before going slam-bang in the most enthralling of manners in the quarterfinal against the West Indies, Williamson is the usual man for that anchor job. Stay at one end, tick those singles and twos, while gliding the odd boundary, and let the others take up the hitting. If McCullum or Guptill fall relatively early, much of New Zealand's batting fortunes will depend on Williamson, and how the right-hander counters the guiles of Tahir will play a big part in determining if New Zealand get their desired target, be that bating first or second.
Hashim Amla vs Trent Boult: While Tim Southee's performance against England will go down as one of the great CWC spells, Boult has been New Zealand's best bowler. He was the only one who actually looked like a bowler, rather than someone to cart around for fun, in the entire quarterfinal between New Zealand and West Indies, and Boult will be key to ensure Amla, and Quinton De Kock, do not get off to a great start. If Amla is allowed to get away, he will set the game up perfectly for the likes of AB De Villiers and David Millers to take off like only they can.
AB De Villiers vs Daniel Vettori: When David Warner and Shane Watson were threatening to take the game away with their batting against New Zealand, Vettori was the man to bowl a master spell and quell the momentum. The wily left-armer will be called upon again, and if he can stop De Villiers from taking charge, the Black Caps might just have the game in hand.
Brendon McCullum vs AB De Villiers: McCullum's captaincy has been outstanding at this World Cup – aggressive and going for the throat of the opponent, which has brought that ruthless streak. While there are no doubts about De Villiers' talents with the bat, the jury is still out on his captaincy ability. On paper, McCullum definitely has the upper hand in that regard, and it will be up to De Villiers to outthink his counterpart in the crucial moments of this semifinal.
Eden Park crowd: The supporters have played a major role in helping New Zealand keep their momentum up for the entire World Cup 2015. Another packed house it will be in Auckland, and the vast majority will be baying for South African blood. If New Zealand get that little bit of momentum, and with the crowd behind them, they will be a pretty hard team to stop. The key for South Africa will be to nullify the supporters by grabbing control early.