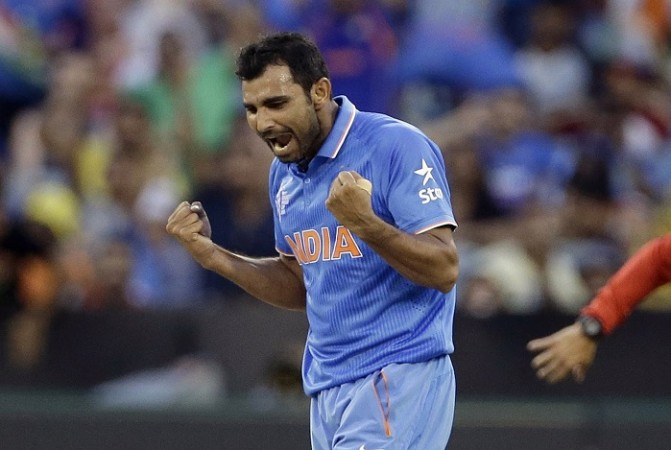 India have been dealt a bit of a blow ahead of their ICC Cricket World Cup 2015 game against the UAE, with pace bowler Mohammad Shami ruled out through injury.
Team India have struggled with injuries all the way to the World Cup, but those injury worries seemed to have abated, only for it to bite back again, with Shami the latest victim.
Shami will not play the match against UAE at the WACA in Perth on Saturday owing to a knee injury, the team confirmed on Friday.
"Mohammed Shami got a mild left-knee problem and had ultrasound-guided injection yesterday," India's media manager RN Baba said on Friday.
"For his long-term management perspective he won't be available for tomorrow's match against UAE."
Shami's loss will be felt, as he was India's best bowler in the first two World Cup matches. The pacer picked up six wickets in those two games, but it has been the aggression and pace with which he has bowled, which has caught the eye.
Against Pakistan, Shami bowled really well first up, and then came back and cleaned up the tail, while he was equally impressive against South Africa at the MCG.
With Bhuvneshwar Kumar still not quite looking like he is 100 percent yet, it remains to be seen what sort of change(s) MS Dhoni will make to his team for this encounter against the UAE.
Dhoni and the team management have insisted Bhuvneshwar is 100 percent fit, despite training sessions suggesting otherwise, and now with Shami ruled out through injury, the India skipper will have little choice but to go with the swing bowler.
India only have four pace bowlers in their squad, even if they also have the option of using all-rounder Stuart Binny.
Binny, anyway, might have been in contention for a place in the playing XI, not just because of the pacy WACA pitch, but also to give one of the spinners a rest.
There was also a scare for Dhoni at practice on Friday, with the skipper hit on the forearm by a net bowler.
However, the media manager qas quick to play down any fears of the captain missing the contest.
"Dhoni is fine and there is no problem with him," media manager RN Baba told PTI.
At the end of the day, as good as UAE have been in this World Cup – they are extremely unlucky not to have won at least one, if not two of their first two games of this CWC – India are expected to cruise to victory, with the match seen as an opportunity to test the team's bench strength.
Therefore, there might be chances for Binny, Bhuvneshwar, Akshar Patel and Ambati Rayudu, even if there is a case for Dhoni not to change to team around too much, considering how well they played against Pakistan and South Africa.
India stay in Perth for another match – a much bigger one against the West Indies – and the Shami injury might be a blessing in disguise as it gives the key fast bowler a chance to rest up for the match on Friday next. If India win that one, as well as the game against UAE on Saturday, then top place in Pool B should be as good as theirs.
The UAE, barring a late injury, should go with the same XI that nearly beat Ireland.
Expected lineups: India: Shikhar Dhawan, Rohit Sharma, Virat Kohli, Ajinkya Rahane, Suresh Raina, MS Dhoni (capt & wk), Stuart Binny, Ravindra Jadeja, R Ashwin, Mohit Sharma, Umesh Yadav.
UAE: Amjad Ali, Andri Berenger, Krishna Chandran, Khurram Khan, Swapnil Patil (wk), Shaiman Anwar, Rohan Mustafa, Amjad Javed, Mohammad Naveed, Mohammad Tauqir (capt), Manjula Guruge.