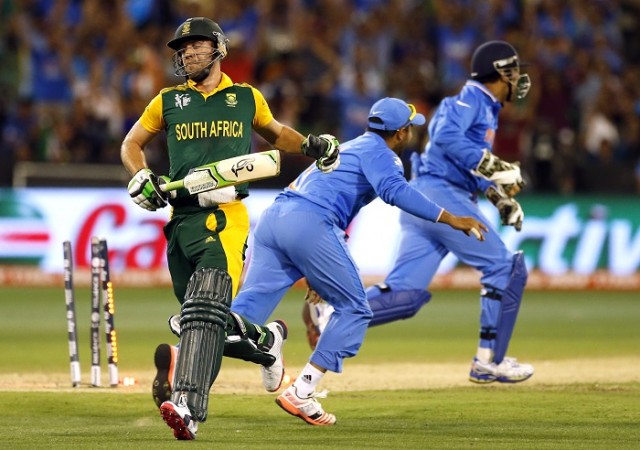 South Africa just could not stay with India and their unceasing pressure in their chase at the Melbourne Cricket Ground on Sunday, there is no two ways about that. And the ponderable question that came out after India's assured win over the Proteas in their ICC World Cup 2015 encounter was: "Are South Africa too reliant on their skipper and vice-captain?"
Hashim Amla gives and keeps giving South Africa such good starts, that the rest of the batting order almost takes it for granted that they will be sitting pretty before they have to bother walking to the crease.
That did not happen against India – they not only dismissed Quinton De Kock early, they kept Amla quiet, bowling plenty of short stuff, and that led to frustration and a loose shot off a well-directed short delivery from the normally unflappable opener.
Once Amla fell, you could almost feel all hopes now falling on AB De Villiers, and it looked like the best batsman in the world would take South Africa close, such was his touch early on. An ill-advised second run, after Ravindra Jadeja bowled four dot deliveries, though, ended that hope and from there the result in India's favour was inevitable, even if not as emphatic as a 130-run victory.
"You feel the pressure chasing 300 plus so you take on shots that you might not normally take on and you go for second runs you might not normally go for," said De Villiers, who called the two run outs in the chase – David Miller was the other one – "unacceptable". "India's fielding didn't surprise me.
"They are a team that always wants to win games. I expected them to be urgent. It was just poor running."
South Africa came into this World Cup as one of the big favourites alongside the two hosts – Australia and New Zealand – but it is quite clear that their team is not as well-rounded as the other two.
The lower order is brittle as they have no quality all-rounder, and you just feel if you get Amla and De Villiers out, then you are in the game. Even if David Miller and JP Duminy stepped up against Zimbabwe, that felt more like the exception than the rule.
"You always want to be competitive," added De Villiers. "We pride ourselves on that. We are going to have to lick our wounds for a while
"With a loss like this, your confidence takes a bit of a knock and it's up to the senior group of players to make sure the confidence is still there.
"Little things can creep into your game if you think about too much but we will have a mature and honest chat about it. [For now] I just want to feel sad in my room for a while."
De Villiers and Amla are the two outstanding batsmen in their side, and with South Africa's bowling looking far from unhittable, most teams will feel "get those two out. no matter what the score, be it chasing or defending, we will have a chance of winning the game."