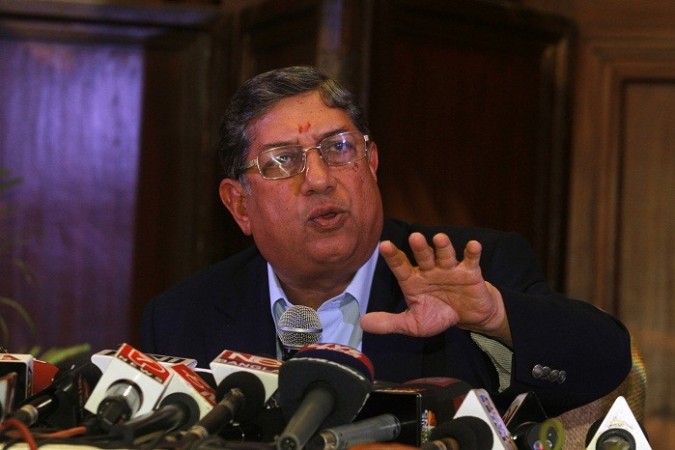 N Srinivasan has always been making the headlines of late, primarily for all the wrong reasons, and things were no different at the presentation ceremony of the 2015 Cricket World Cup after Australia beat New Zealand to clinch their fifth title.
Initially it was thought that ICC president Mustafa Kamal would hand over the trophy to the winning captain, but it was not to be with the premier cricket body's chairman Srinivasan doing the honours at the Melbourne Cricket Ground.
This act of Srinivasan might have breached the ICC rules as well, but then he is no stranger to controversy, the most recent one being the IPL spot-fixing scandal.
If Srinivasan had any illusions about his reputation, they were surely put to rest during the World Cup final presentation ceremony, as he was booed by a number of spectators inside the stadium.
Twitter went abuzz as the MCG crowd booed Srinivasan during the presentation ceremony. Some of the interesting tweets can be read below:
Australia wins the top prize for cricket... And Srini for shamelessness.
— atiya zaidi (@atiyaz) March 29, 2015
Shubasish barua Tweeted – "People at MCG booed at N Srinivasan for simple reason..ICC is honored to have a Match Fixer as Chairman...God Bless MCG crowd."
Raj posted – "hats off to Srinivasan, wherever he goes ends up with some controversy even if it is for doing nothing. (maybe im wrong he cant do nothing.)"
Adarsh Troll posted – "Srini Mama got booed by MCG ground. Now Srini Mama will buy MCG and rename it to Mama Cricket Ground."
Dhakkad Chora tweeted – "Such a great win and such a shame receiving the world cup trophy by #Srinivasan. Feel for you Aussie team! Congrats though m/"
Twitterati with twitter handle @Ra_Bies tweeted - "After Srinivasan touched the World Cup, the Australian Cricket Board ordered two packs of dish washer to wash the cup"
Amit tweeted – "Insult for aus cricket team that srini mama giving wc trophy to clarke."
Arpit Sihra posted – "Wait a minute.. Was that a replica they gave to the Aussies like they did in 2011? Can't trust Srini with anything.. #AUSvNZ #CWC15"
AJ tweeted – "93K people cheered for @sachin_rt and the same 93K people booed Srini Mama. That bought a smile in my face. :D #CWC15Final #AUSvNZ"
Grace posted – "My favourite moment of the #CWC15 was probably the bit at the end where Srini got booed."
Debasmita tweeted – "Everyone booed Srini,what a reputation u have made,Most Disgusting Man I have ever seen in my lifetime"