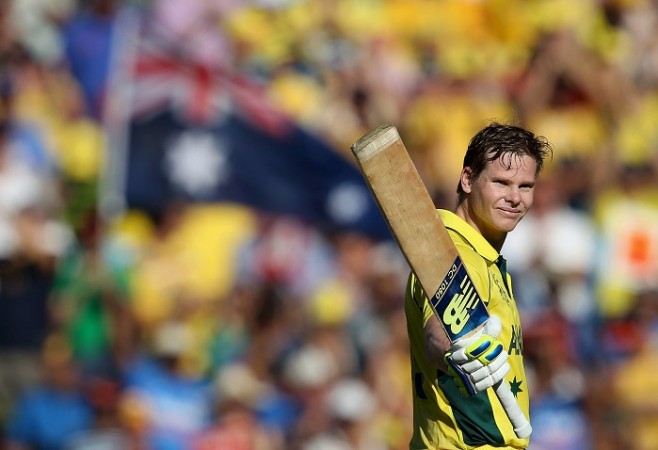 Virat Kohli, Kane Williamson and Steven Smith – one has flattered to deceive after a tremendous start to the ICC Cricket World Cup, the second has failed to make his mark despite a brilliant run of form leading up to the big tournament, while the third has just been plain unstoppable, carrying on from a glorious summer, with runs still flowing easier than octaves for a soprano at the Sydney Opera House.
Smith has made batting look so easy that middle-aged men who have never played the game before are seriously thinking about picking up a bat and making a run at their respective national teams.
The half-century against Pakistan in the World Cup quarterfinal was as serene as they come. When Shane Watson was being battered, bruised and nearly knocked out by Wahab Riaz, Smith was driving, flicking and dabbing with consummate ease.
When Aaron Finch was looking to smash a few balls to smithereens against India in the World Cup semifinal with little effect, Smith was caressing, gliding and stroking the ball with such control that the control percent indicator in those overwhelming amount of stats that they throw at everyone watching the match on TV had to change the algorithm to just make the Australian superstar look human.
The mind-boggling thing about all this? Most of the written words above are only a slight exaggeration, which only goes to show just the kind of mood Smith is in. Having made his mark in the quarterfinals and the semifinal of the ICC Cricket World Cup 2015, one more challenge awaits for the runscoring machine – the final, at the MCG, against Trans-Tasman rivals New Zealand.
If Smith keeps that blade of his look more powerful than the magic wands of Harry Potter, Dumbledore and Lord Voldemort combined, New Zealand will cross the Tasman in sombre mood, plain and simple.
Getting Smith out early will be paramount for New Zealand to stand a chance of clinching the World Cup title for the first time in their history, be that with Australia batting first or second.
If the bowlers don't get him out early – and don't ask how to get him out, because nobody knows, as there seems to be no weakness – Smith will score a hundred to help Australia post a huge total batting first.
If the bowlers don't get him out early, Smith will score a hundred to help Australia chase down any total.
The only chink in the armoury is that, out of the four hundreds scored by Smith in ODIs so far, his highest is only 105 – scored against India in the semifinal on Thursday. However, New Zealand cannot wait for Smith to cruise his way to another hundred and then wait for the batsman to get himself out can they?
And, if the last year or so is anything to go by, Smith will only use that particular statistic as a motivator to prove that he can score big hundred in ODIs; and if he does that, the Black Caps will be out of the game.
But, hey, who knows, maybe Williamson, the other seriously talented young batsman playing in the final, has waited until the biggest game of them all to showcase his stunning talent, talent that is capable of drowning even the unstoppable Smith.