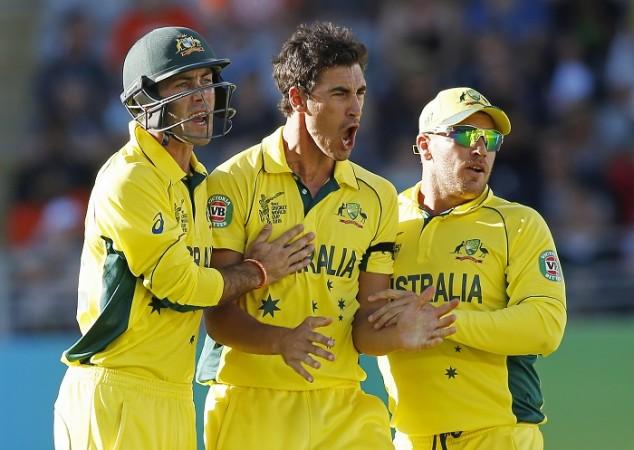 India and Australia are two fierce competitors when it comes to their nature on the cricket field, where both sides give it their all to turn out triumphant. However, there have been times when both sides have crossed the line during the match.
In recent times, we have seen both the teams go at one another in the form of sledging and it would come as no surprise if there are few exchanges between the bowling and the batting side, when they clash in the semi-finals of the World Cup in Sydney Cricket Ground.
It was only earlier this year at the Melbourne Cricket Ground when the Australian David Warner had a go at Rohit Sharma, asking him to "speak English", as a result of which the left hander was fined for his words.
But Warner seems to have learned a lesson, as he might not be involved in such acts.
"I heard Davy said he wasn't going to get involved in all that stuff," Mitchell Johnson told Fox TV on Tuesday.
But it would be interesting to note if Warner gets provoked by the Indian fielders, the Australian, who are known for their aggression, could well give it back to the Indians.
The Indian team of the past may not have given it back to the Australians, but expect this team, which comprises young guns such as Shikhar Dhawan, Ravindra Jadeja and Virat Kohli to fight fire with fire.
Unless the war of words does not cross the line, it looks for a fun viewing, but both teams' captains need to be on their toes if such things happen. The fiery exchanges have been a part of the game, feels Mitchell Johnson.
"Someone's got to do it and I might put my hand up. It's part of the game and what happened the other day with Shane (Watson) and Wahab (Riaz) was exceptional.
"I thought it was great entertainment and I think you're going to see more entertainment in this game."
One hopes that the war of words or fiery exchanges between the two does not become the talk of the town during the semi-final and overshadows the clash.
Both the teams have played some consistent cricket in the course of the tournament, hence it should be a battle between the bat and ball and nothing else.
The two on-field umpires would also be required to be on their toes for the huge clash at SCG and stop things from boiling over.