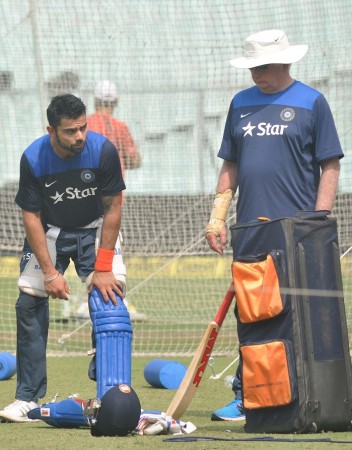 India will have to battle it out against the UAE in their ICC Cricket World Cup 2015 encounter in Perth on Saturday without their coach Duncan Fletcher.
The Zimbabwean has flown to South Africa to attend the funeral of his mother-in-law and will not make it in time for India's match against UAE, the BCCI confirmed.
It is believed Fletcher will be back with the side for their second match in Perth against West Indies on 6 March.
While even the slightest of change to the rhythm when a side is winning can throw you off balance, India will not be too worried about Fletcher's absence.
As good as UAE have played, India will be pretty confident of getting the better of their fellow Asian side at the WACA on Saturday. MS Dhoni's men have been in tremendous form at this Cricket World Cup 2015, rolling over Pakistan and then thumping South Africa, which sees them sitting pretty atop Pool B.
When needed, against the two big teams, their bowling has come to the fore, while the batting form as been rekindled as well. With Perth one of the fastest pitches in the world, India will again bank on their pace bowlers to do the trick, even if their spinners have been equally key to their first two successes.
The UAE have done pretty well in this World Cup so far, and on another couple of days, they might have come to this match against India with two wins rather than two losses – with those narrow losses coming against Zimbabwe and Ireland.
Either way, India will be the big favourites going into this match, and another dominant performance will inch them closer to sealing that top spot in Pool B, which could mean avoiding the likes of Australia and New Zealand in the quarterfinals.
India have taken it pretty easy in Perth so far, not worrying too much about intense practice. The team took a day off on Thursday to just unwind, with most of the team going down to the gorgeous Western Australian beaches.
There was a spot of beach cricket played during that time, but that was as far as the India team went to using that bat and ball on Thursday.
On Friday, the practice session will be a touch more intense, and the team will want to face UAE with all guns blazing, as they have so far this World Cup.