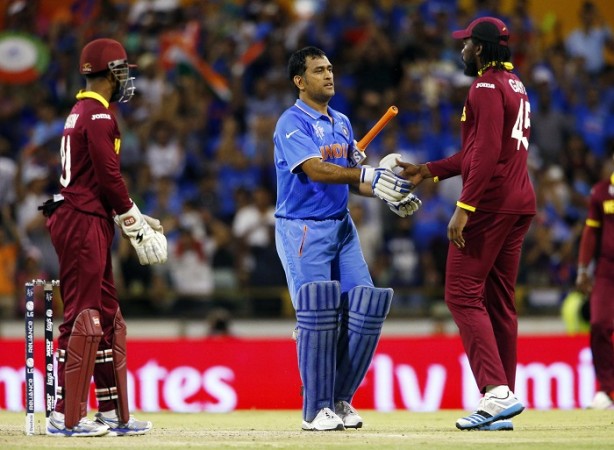 There was so much worry, so many articles written, so many concerns over MS Dhoni's form with the bat that it would have seemed like a crisis of huge proportions for someone on the outside looking in. While those articles were being written and the captain's form being discussed as the ICC Cricket World Cup 2015 continued to roll on, one man would have not fretted even a wee bit.
MS Dhoni showed just why he is the best finisher the game has ever seen, yet again, with an innings of sheer class; so easy did he make the knock of 45 from 56 balls look that most people would have been wondering what the fuss was all about.
But then, that is Dhoni all over. He has done these chases to a T so many times, that it has become the norm, with him getting out before the winning runs are scored, very much the exception.
As wickets continued to tumble at one end, Dhoni remained calm, collected and serene. As the blood boiled in pretty much every single India batsman when a short ball was delivered, Dhoni's veins were ice-cool. As West Indies pushed and pushed for his wicket, for a way through to clinch an unlikely victory, the Dhoni-built citadel remained impenetrable.
While the bowlers' performance was outstanding, yet again, it is this knock from Dhoni which would have warmed the hearts of most Indian fans. With an in-form Dhoni, the man always for the big occasion, India just added a few extra inches to their already bulging biceps.
Worry was very much on the surface as Dhoni struggled with the bat in the Test series against Australia, before his abrupt retirement. Worry remained as Dhoni struggled to hit the meat of the bat in the tri-series, a series in which India were poor, and then some. Worry increased when Dhoni struggled to hit those trademark helicopter shots to the stands in the first couple of matches of the ICC Cricket World Cup 2015 against Pakistan and South Africa.
And, with a typically Dhoni-like innings, full of invaluable calm, all those worries disappeared, as India's best ODI captain of all-time anchored a tricky chase – made tricky by some good West Indies bowling, a not-so-easy wicket and some poor India batting – to perfection, never putting a foot wrong and hardly ever bringing out those worrying gasps from the fans.
That is precisely why Dhoni has been shortlisted along with Sachin Tendulkar, Wasim Akram, Adam Gilchrist and Sir Vivian Richards for the The Cricket Monthly's greatest ODI cricketer of all-time.