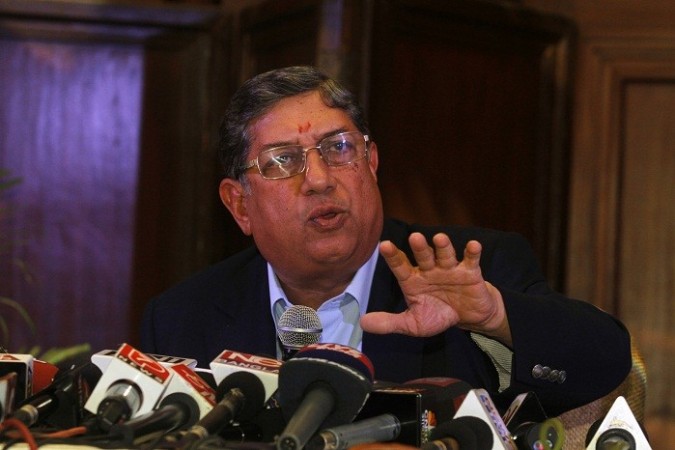 The International Cricket Council (ICC) has named N Srinivasan as its first chairman in the annual conference in Melbourne on Thursday, while Mustafa Kamal has become the 11th president of the cricket's governing body.
Srinivasan's name was nominated by the Board of Control for Cricket in India (BCCI), despite being suspended by the Supreme Court of India as the BCCI president.
The name of the 69-year-old was likely to be stamped for the top-job after it was made clear that there are no restrictions on him for taking over as ICC chief. Srinivasan is expected to take on his duties after ICC's Annual Conference week.
Srinivasan said he is honoured to be named as the chief of the cricket's governing body and assured that the organisation will keep playing a vital role in developing and promoting cricket across the globe.
"It is an honour to be confirmed as the Chairman of the International Cricket Council," Srinivasan said. "I will leave no stone unturned in trying to strengthen the pillars and foundations of our sport, both on and off the field. I want to ensure that cricket retains and grows its popularity, and that the ICC plays a leading role in this global growth.
"I want to see more strong teams in international cricket. For this to be achieved, we all need to work hard to develop local talent in our countries. Naturally, there will be more support to those who first show they can help themselves."
"The ICC is a Members' organisation and the pathway is now there for any Member to play Test cricket or in the major ICC events if it performs well enough over a sustained period of time."
Meanwhile, Cricket Australia's Chairman Wally Edwards will chair the Executive Committee and Gilles Clarke of England and Wales Cricket Board will continue to be ICC's Finance and Commercial Affairs Committee head.
Bangladesh Cricket Board's (BCB) Mustafa Kamal, who has became the new president of the ICC, said he is looking forward to work with the ICC management, including Dave Richardson and Srinivasan.
"Over the next 12 months, I look forward to working with the ICC Board and ICC Management, and will be delighted to contribute in any way I can," Kamal said. "In Mr Srinivasan and David Richardson, I have absolute trust and confidence that we have a combination that will not only strengthen our sport, but will also take this great organisation to a new level."