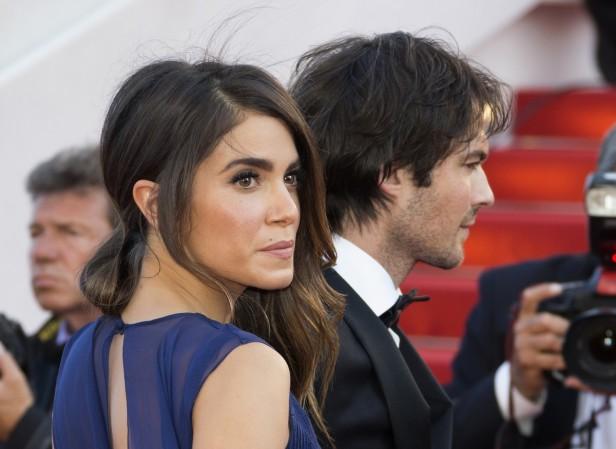 Ian Somerhalder's wife Nikki Reed and his ex-girlfriend Nina Dobrev have always been friends and rumours of them feuding were cooked up by media outlets, it has now been confirmed. After years of silence, the husband-wide duo has opened up about their rumoured fight with Dobrev.
Also read: Pamela Anderson strips down and urges women to spend Valentine's Day alone
On Tuesday, Reed, Somerhalder and Dobrev took to their Instagram pages to post pictures of them hanging out together, thereby ending rumours of a fight between the trio that is said to have originated after Somerhalder started dating Reed. Somerhalder and Dobrev dated for about three years, before calling it quits in mid-2013 and his involvement with Reed a year later was said to have caused a strain in the Dobrev-Somerhalder relationship. At the time, Somerhalder and Dobrev were in the midst of filming The CW's The Vampire Diaries, where they played on-screen lovers.
Reports at the time also claimed that Reed was unhappy with her husband filming intimate scenes with his ex.
But on Tuesday, Reed noted that she chose to remain silent about the alleged fight because she did not want to address baseless stories. "For the last few years we thought addressing any baseless rumors with silence was the best way," she wrote. "Besides, who wants to respond to made up stories about 'friends backstabbing friends', 'cheating exes', or 'cast members exiting shows' on low-brow websites like hollywoodlife that are just perpetuating trends that preceded us. Yuck. I now see that silence was taken as an opportunity to fill in the blanks with even more falsities, and juicer stories, and we, yes WE, believe we have a moral responsibility to young girls to end that narrative, because at the end of all of this, those young girls are the ones who lose."
Find below the messages posted by Somerhalder as well as Dobrev.