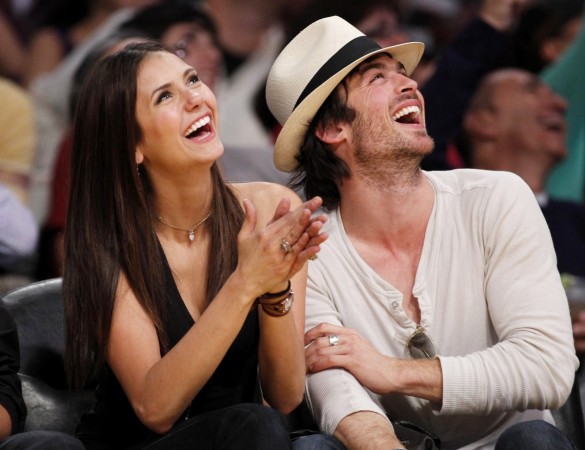 Ex-flames Ian Somerhalder and Nina Dobrev are in good terms with each other all this while despite break up and have been spotted getting intimate in "The Vampire Diaries" but their relationship could take a beating in future if latest reports are to be believed.
It was reported that Ian Somerhalder's relationship with his ex girlfriend Nina Dobrev strained a bit after the former's affair and subsequent engagement with "The Twilight" star Nikki Reed went public.
According to a report by Celebdirtylaundry, Nina Dobrev had the feeling at the back of her mind that she and Ian Somerhalder would get back together one day but is hit hard by reality now that her ex boyfriend's wedding to Nikki Reed is not far off.
The report went on to say that there are possibilities of Ian Somerhalder and Nina Dobrev calling their friendship quits after the former ties the knot with his fiancée. It also rubbished rumours of Somerhalder and Reed calling off their wedding, claiming that it is very much on and that Dobrev might not be present when they take the final vows.
Interestingly, the makers of "The Vampire Diaries" are not in the mood to separate Ian Somerhalder and Nina Dobrev in reel life as they continue to share intimate moments, including kisses and love making scenes on screen. It is also reported that their close friendship despite break up has made Nikki Reed insecure.
It may mentioned that the trio has been in an awkward relationship with Ian Somerhalder being engaged to Nikki Reed in real life even as he continues to do romantic and intimate scenes with his ex girlfriend Nina Dobrev in reel life.
Somerhalder's on-screen chemistry with his ex-flame has sparked off rumours of a possible re-union but he and his fiancée Nikki Reed have denied it.