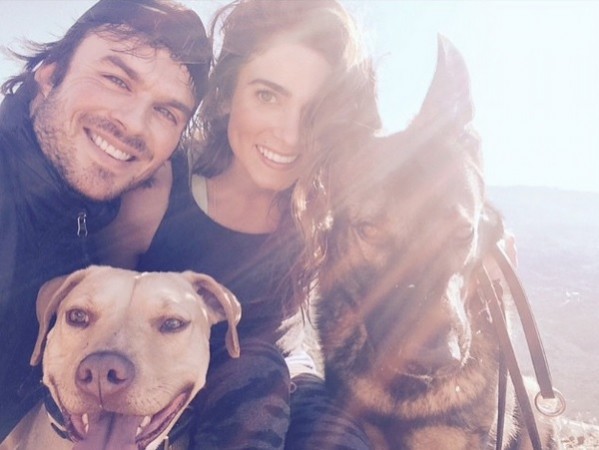 Ian Somerhalder got married to Nikki Reed on Sunday, dashing hopes of fans who wanted him to reunite with his ex girlfriend, Nina Dobrev.
But it appears that both Dobrev and Somerhalder have only best wishes for each other, and a source close to "The Vampire Diaries" actor told HollywoodLife that Somerhalder prays that Dobrev finds her true love as soon as possible.
Somerhalder and Dobrev dated for almost three years before calling off their relationship in 2013. Since then there have been many reports hinting at the possibility of the duo getting back together. But Somerhalder dashed all hopes when he got engaged to Reed in January, and now he supposedly wants Dobrev to move on in life as well.
"[Ian] hopes that [Nina] finds the love of a lifetime because he has found his," the source said. "He looks forward to seeing her do amazingly well in her life and her relationships. He knows he will forever be linked to Nina, but his life is now Nikki and his focus is always on her. He is not going to live in the past and he hopes that Nina doesn't herself."
Reportedly, Dobrev was invited to Somerhalder and Reed's wedding. But she decided not to go, as she did not want things to be awkward.
"She truly does love Ian with all of her heart, but watching him marry Nikki would have just been too painful. She's now closed two doors in her life and just wants to move forward." Good for Nina!" the source added.
On the day Somerhalder and Reed exchanged their vows, Dobrev took to her social networking platform to share a positive message, which many believe was meant for Somerhalder and Reed.
"Positivity. Love. Happiness. That is what Im sending out into the Universe, may your day be filled with it…Namaste," she wrote along with a photo of another powerful quote that read, "Words have the power to both destroy and heal. When words are both true and kind, they can change our world."