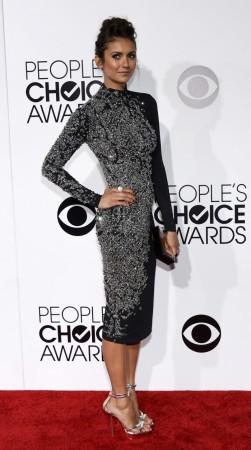 "The Vampire Diaries" won't be the same for all Elena fans, as Nina Dobrev decided to quit the show earlier this month. Before leaving her 'TVF' family, she has decided to capture every moment with them on Instagram. Recently, two pictures of Dobrev with her co-star Ian Somerhalder have received much attention from the fans.
The picture was taken on the final shooting day with Somerhalder and both of them made funny faces while the pictures were clicked. "#FBF to last week with @IanSomerhalder shooting our final 'Damon and Elena' scene," the 26-year-old actor captioned via Instagram on Friday, April 24, adding to her sequence of "#TVDFamily #PolaroidSeries".
But there is something else also about the girl from Degrassi that is making the headlines. Rumours has it that she has been seeing a secret boyfriend outside the time of her shooting and according Celebrity Dirty Laundry it is none other than her "The Final Girls" co-star Alexander Ludwig.
Rumours has it that in 2014 the two had reportedly hooked up and on many occasions did not look like 'just friends' to others. However, as Dobrev was still not over her ex, her relationship with Ludwig never blossomed. She was still upset over Somerhalder breaking up with her and getting engaged to her then best friend Nikki Reed of the "Twilight" fame.
Now it looks like she has put her past behind her for good because sources said that the new couple, Dobrev and Ludwig have been inseparable since they met at the SXSW premiere of "The Final Girls" in March 2015 and though she is trying to keep this affair away from the limelight, it looks like the secret is going to be out soon.
So, as Somerhalder prepares for his wedding with Reed, Dobrev has also moved on her life. But is Dobrev really into this relationship or is it a rebound from her previous break-up? "Vampire Diaries" fans are eagerly waiting to see what's next on the cards for her.