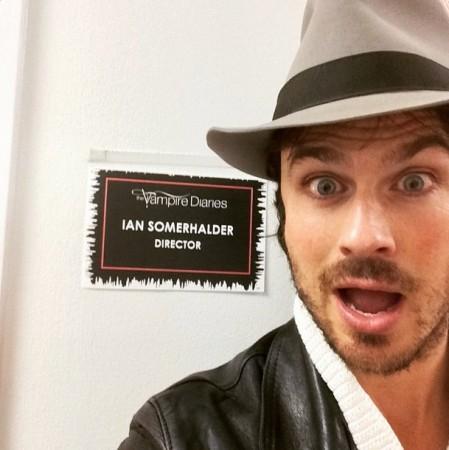 Actor Ian Somerhalder has shared his excitement about directing the 16th episode of popular supernatural series "The Vampire Diaries."
The actor, who plays Damon Salvatore in the series, uploaded a photo of himself on Instagram, which shows him standing in front of a board with the title "The Vampire Diaries, Ian Somerhalder - Director."
"My new office!!!!! Thank you to everyone who made this happen-the individuals whom will go on this journey with me," read his post.
As the 36-year-old is donning the director's hat for the first time in episode 16 titled "The Downward Spiral", he shared his experience about it with his fans and wrote, "Directing an episode of this show is no easy feat".
The celeb also mentioned that he is "grateful for the challenge" and excited about "working side-by-side with the family that we have built over the years-a group of exceptional people whom are extremely talented artists."
While this image of the hunk has evidently created fan frenzy, the first announcement of the actor's new role in The CW series was made by him on 19 December when he posted a photo of the script page on his social media account.
"The Vampire Diaries" season 6 episode 16 is co-written by Brian Young and Caroline Dries and its air date is yet to be announced.
Meanwhile, several of Somerhalder fans were thrilled to read the message and expressed their happiness. Here are some of the comments:
It's nice to see you "back"to #TVDphysically and mentally ,after all that is the place where we all fell in love with you!Congrats!
You are so cute and special. You deserve it Ian, congrats ♡ love you tons
You really diserve that, I'm so pround of you Ian, I love you so much
he's directing an episode!?
You'll do amazing work. Proud of youu:'*
Good luck!
Proud of you