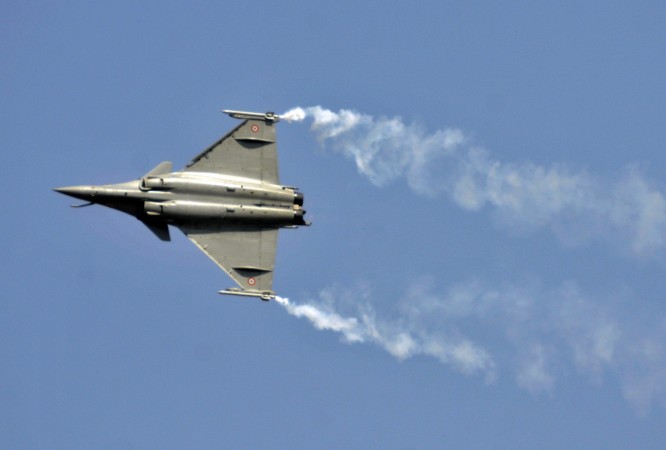 The Indian Air Force (IAF) created history on Saturday, June 18, 2016 as it commissioned three women fighter pilots. The three women, Avani Chaturvedi, Mohana Singh and Bhawana Kanth, have completed 150 flying hours and cleared the first round of training.
After graduating on Saturday, the women will be trained for another six months to one year on the Advanced Jet Fighter, NDTV reported. They will be trained in combat manoeuvres and armament firing. They will be trained on the Hawks so that they can operate the MiG-21s, Sukhoi-30MKIs and Mirage-2000s during operations.
IAF chief Arup Raha had earlier said that the women will not get any preferential treatment. They will be assigned as per the requirements of the Air Force.
The three cadets were given the President's Commission as flying officers of the fighter combat stream at the Combined Graduation Parade at Air Force Academy, Dundigal, on the outskirts of Hyderabad, the TOI reported. From there, they will go on to Bidar or Kalaikunda airbase for the next round of training.
The entry of the women in the fighter pilot stream is a short-service commission (SSC) on an "experimental basis" for five years.
The women have trained hard to fulfil their ambition of becoming fighter pilots.
Mohana Singh wanted to carry on family legacy
Singh comes from a lineage of IAF officers and joining the forces was never a question. Her father was a warrant officer in the IAF and grandfather was as a flight gunner at Aviation Research Centre. After her engineering she had joined Cognizant while simultaneously preparing to join the Air Force.
"I wanted to carry on the family legacy of serving the nation by being in defence and what better way than fighter-flying," she was quoted as saying by Times of India.
Avani Chaturvedi aspired to be like Kalpana Chawla as a child
Chaturvedi, from Kothikanchan village in Madhya Pradesh, aspired to be an astronaut like Kalpana Chawla as a child, her mother told Pradesh18. She too comes from a family that has served in the forces. Her maternal uncle is (Retd) Colonel and her brother Nirabh is a captain in the Army.
When speaking about her second solo trip, Chaturvedi, said that for pilots it's about a "split second" decision. As she was rolling out she heard the Canopy Warning Audio and had to abort the trip, according to NDTV.
Bhawana Kanth aspired to be a pilot since childhood
Kanth, 24, on the other hand, comes from a civilian family background. However, she, like her father, aspired to join the forces and serve the country from a young age. While her father was stopped by her grandfather, her parents encouraged her to fulfil her dreams. Her family belongs to Darbhanga in Bihar.
She explained how doubt crept in about the vehicle's responsiveness when she was at 20,000 feet during her first solo trip. However, the aircraft responded and she was able to complete a spin, recovering her confidence in the process.