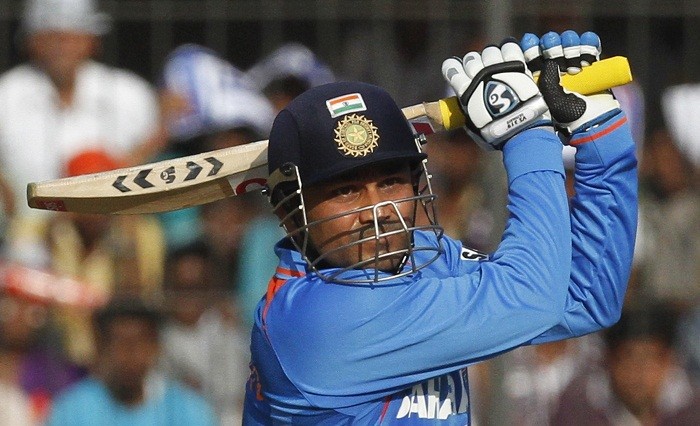 Virender Sehwag, who decided to hang up his boots from international cricket and the IPL last month, is saddened as he, like other cricketers, wanted to retire from the game at the top of his game.
The swashbuckling India opener made his Test debut against South Africa in 2001, while he played his last for India in 2013 against Australia. However, Sehwag, who revolutionised the art of opening batsmanship with his flashing blade, feels hard done by the selectors.
Sehwag feels that he would have requested the selectors to allow him to play his last Test in Delhi had they informed him about dropping him from the side.
"Had the selectors told me that they were going to drop me, I could have requested them to allow me to play my last Test in Delhi and then announce my retirement, but they did not give me that opportunity.
"A sort of sadness shall always remain in my mind that I was not allowed to retire while playing, but anyway, it's all a part of life for a sportsman, who, while playing, never realises when he should retire, but he starts thinking about it when he is dropped," Sehwag told India TV.
Sehwag, who is a veteran of 104 Test matches, 251 ODIs and 19 T20Is, was one of the most feared batsmen in world cricket as he was ruthless in his batting approach He could change the complexion of a cricket match when he was the crease in a matter of few overs.
Sehwag scored 8586 Test runs, 8273 ODI runs and 394 T20I runs, which is an amazing feat considering critics, who were harsh on him, initially felt he would not be a successful Test player.
The Nawab of Nazafgarh silenced his critics with his brilliant display in Test matches, which established him as one of the modern greats of India batting. With such a prolific career, it must be really disheartening for the Delhi batsman to retire from the game without a farewell match.
"I would like to ask: Should not a player who has played 12 to 13 years for his country, deserve a farewell match?," asked Sehwag.