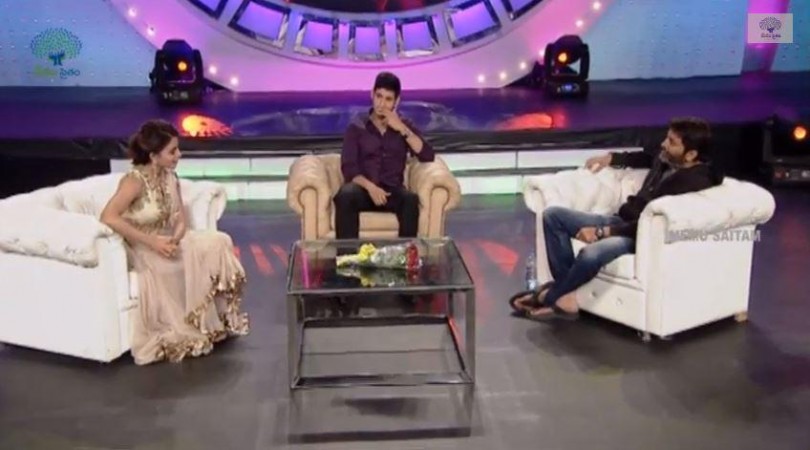 Actress Samantha, who was interviewed by Mahesh Babu during Memu Saitam, revealed that she told all kinds of non-sense to Power Star Pawan Kalyan during the shooting of "Attarintiki Daredi".
As part of the event, Samantha interviewed Mahesh Babu and Trivikram Srinivas. Addressing the event, she said, "Hello to everyone! I am playing an important role of interviewer as part of Memu Saitam. Are you waiting to know whom I'm going to interview? I'm going to talk to the man behind my career's first blockbuster movie "Dookudu" – Prince, Superstar Mahesh Babu and my industry's biggest hit "Attarintiki Daredi" director Trivikram Srivinivas. Lets talk to them."
After welcoming both Mahesh Babu and Trivikram Srivinivas on to the stage of Memu Saitam, Samantha said, "I am going to ask a few questions to both of you. Please forgive me if you find anything wrong."
Samantha: Who was your first crush before falling in love with Namrata? What was your age at the moment?
Mahesh: You are not supposed to ask this question to me because now I am married to someone. (he said smiling) I don't remember my first love. It was a long time ago.
Samantha: You have been voted the 'Most Desirable Man of India'. How do you feel about it?
Mahesh: It was really embarrassing for me. Anyway, I thank all my fans for voting me. I don't take all these things seriously because I am a shy guy.
However, Mahesh Babu too asked her a few questions in return.
Mahesh: You have worked with almost all stars in a short span of time. That is really a big achievement. Let me ask you a question: How was working with Pawan Kalyan?
Samantha: Initially, I was very afraid to talk to him because I heard that he is very reserved. But I think towards the end of the shooting, there were no full stops and no thinking while talking to him. I think I'm the only person, who has told all kinds of nonsense to him and got away with it.
Mahesh: Probably there were other things running in his mind.
The interview does not end here. You can watch the following video to see the complete interview of Samantha, Mahesh Babu, Trivikram Srinivas at Memu Saitam.