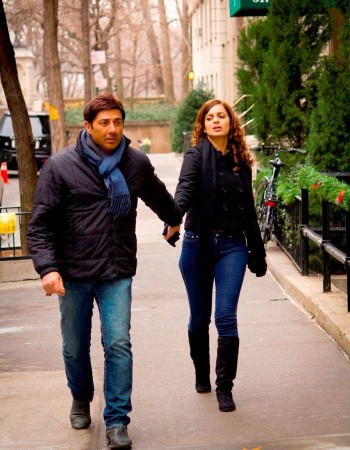 "I Love New Year" brought Kangana Ranaut back to the theatres after a gap of almost two months, but this time critics have advised the audience to stay away from her film.
Directed by Radhika Rao, "I Love NY" is a romantic comedy starring Kangana and Sunny Deol. The film was initially set to hit screens in February last year, but the release was halted due to various reasons. And recently, Kangana Ranaut slapped a legal notice on the producer for releasing the film without her consent.
Despite all the controversies, the film failed to open on a good note and critics feel that the film didn't live up to the expectation. While some critics said that despite several flaws it's worth a watch, some reviews were downright mean.
Check out the reviews below:
Roktim Rajpal of IBNLive said: "To cut a long story short, if you are a fan of the 'Gangster' girl then the best thing to do would be to forget that she was ever a part of such a disappointing project like 'I Love NY'."
Suhani Singh of India Today writes: "I Love NY is a mind-numbing watch. It sees Kangana opposite an actor with whom she has zero chemistry despite her laboured attempts to show otherwise. The less said about Deol's act as a lover, the better it is. It just makes you cringe as much as chuckle."
Renuka Vyavahare of The Times of India said: "Kangana is delightful to watch. She did this film before Queen happened, proving she always had it in her. Sunny Deol looks odd for the role he's cast in but delivers an earnest performance, which helps him sail through.
Kunal Guha of Mumbai Mirror said: "If you plan to catch this, happy hangover to you too."
Deepanjana Pal of Firstpost said: "Ranaut spends most of the film weeping and cursing her fate, which probably required no acting considering the quality of this film. She is still the best thing in I Love NY, though given her co-actors and script, that's not really saying much."
Rohit Vats of Hindustan Times said: "I Love NY will remain in your memory, provided you are willing to watch it, as a film where Kangana Ranaut and Sunny Deol tried honestly to come up with a believable love story."