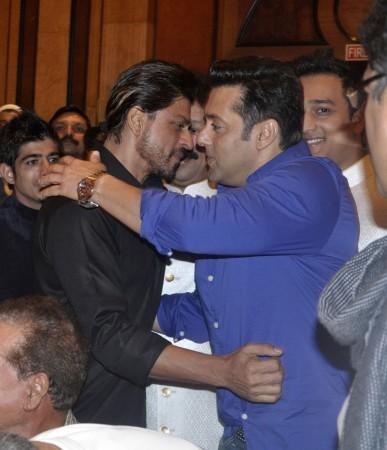 Salman Khan and Shah Rukh Khan may have ended their five-year-old rivalry, but they don't share that same bond now. They don't talk after the fight, but still respect each other.
The "Kick" actor in an interview with Bombay Times talked about his equation with "Karan-Arjun" co-star SRK.
SRK and Salman's friendship came to an end in 2008 when they had ugly spat during Katrina Kaif's birthday party. But the rivalry came to an end after they hugged at Baba Siddiqui iftar party last year.
So when asked whether he and SRK are friends now, Salman replied saying that the bond is not that same.
"I like Shah Rukh though we do not get along and don't talk. Upar wale ne use itni izzat aur shohrat di hai and then there are people who will come and bitch him out to me that I can't stand at all. We are not best friends any more, but are normal and cordial. He thinks. He plans. God has given him a mind and he uses that and is a hardworking man," Salman told Bombay Times.
The "Kick" actor also praised Shah Rukh for keeping the family as his first priority. He added saying that the way SRK thinks is 100 percent correct.
"I know he is correct when it comes to his family and stuff like that, but I can't get myself to do that. People come and bitch him out, given that they know that there is a distance. They will come and tell me, you are a different guy and he is a different guy. I ask them what is the difference? The fact that you can make a fool of me and you can't make a fool of him? I may allow you to use me and I let it go as I feel the person will get exposed or it will spoil relationships. But I always know. But if Shah Rukh is not allowing it, he is 100 percent correct and that is his personality."