Vikram starrer "I" aka "Ai", which has reportedly grossed over ₹100 crore in India from three languages in five days, has opened to fantastic collections at US Box Office in the first weekend. The movie is now just a little short of beating Rajinikanth's "Lingaa" records in its five-day opening weekend.
The combined estimated three language (Tamil, Telugu & Hindi) collections of "I" stand at $1.4 million (₹8.61 crore) and has surpassed the business of Rajini's "Sivaji", which had collected $1.3 (₹8.1 crore)million. It is now set to break Rajinikanth's "Lingaa" record of $1.5 million (₹9.33 crore) from two languages (Tamil and Telugu).
As per Andhra Box Office, "I" has raked in $294,478 (₹1.81 crore) on Tuesday, $231,583 (₹1.42 crore) on Wednesday, $91,193 (₹56.20 lakh) on Thursday and $781,000 (₹4.81 crore) in the weekend (Friday to Sunday) to take its tally to $1.4 million in the opening weekend.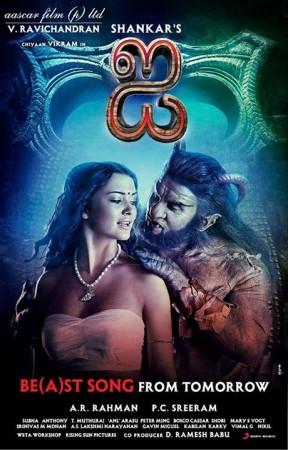 The response has been good in the US so far for "I" even though there have been mixed reviews for Vikram's movie. It is now the third top most grossing Tamil film in the US after "Endhiran – The Robot" and "Lingaa".
While "I" is expected to easily beat "Lingaa" records, we have to wait and watch whether it can surpass the collection of "Endhiran – The Robot", which had earned $2.4 (₹14.84 crore) million from three languages in 2010.
This is the best-ever performance by Vikram, whose previous movie "Thaandavam" earned ₹1.13 crore from Tamil and Telugu versions.
Meanwhile, "I" has continued to rock at domestic box office. Its performance in Tamil Nadu, Kerala, Andhra Pradesh, Telangana and Bengaluru has been brilliant in the first weekend. The Sankrathi five-day long weekend helped the multilingual movie do good business. The early reports emerging from trade indicates that it has grossed ₹100 crore from India.