Puducherry Chief Minister V Narayanasamy, in an exclusive interview to IBTimes India, laid out his plans to develop Puducherry, boost the tourist inflow and investment into the Union Territory. He also spoke about a Disney World-inspired amusement park being among his plans.
No threat from BJP
Speaking about if BJP could be a threat to the Congress party in the next elections, Narayanasamy played down the issue saying the saffron party would be a "non-starter" in the largely Dravidian territory.
Tourism and infrastructure
Narayanasamy, during the interview, outlined the priorities before his government. He added that his highest concerns to address include law and order, tourism, industrial development, employment schemes and infrastructure.
He said that besides an amusement park, he has made other plans to bring in more tourists, which include bringing up more and better hotels and also ensuring smoother traffic.
The Puducherry Chief Minister also said that he has plans to start a cruise from Chennai to his UT in order to increase the tourist footfall, and also make a push for more water sports related activities.
Law and order
When Narayanasamy was asked about at least 12 murders that took place in the UT until May 2017, he pointed out that these were misinterpreted as political murders or premeditated acts.
He said while one was the result of a business rivalry, another was due to professional competition and the third was because one spouse was suspected of infidelity.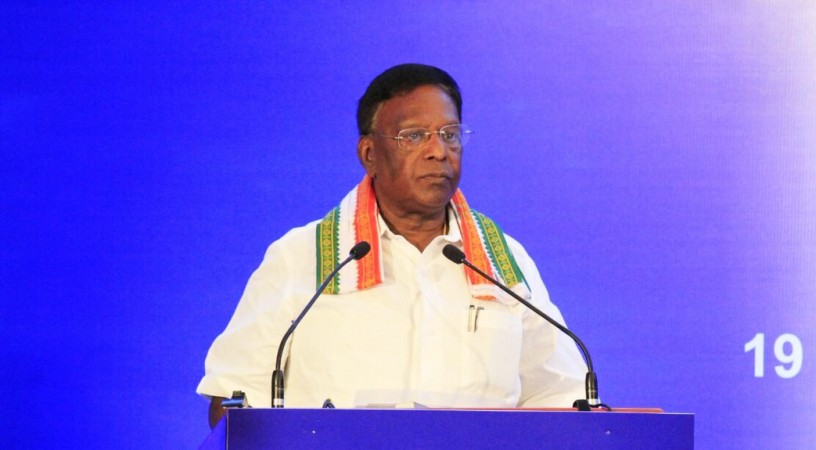 On LG & CM tiff
When asked about his difference of opinion with Lieutenant-Governor Kiran Bedi, he said that he does his work according to the constitution. He also added that he is worried about the people of Puducherry and they know who is working for them and who isn't. "Ministers and I concentrate on development, we don't want any publicity," he said.
Speaking the Puducherry Lt Governor being more vocal about her work, he said that he doesn't want any publicity. "As a chief minister whatever I do should be in the interest of the people and not for my own interest," he added.
Looking ahead in politics
Puducherry happens to be one of the few states across the country where Congress government is still in power. More importantly, the current government came to power despite the massive BJP wave across the country that has unseated even strong local parties.
Narayanasamy, however, dismissed speculation that the BJP would grow strong in Puducherry because the UT and neighbouring state Tamil Nadu have a strong Dravidian culture.
He also promised that during the rest of his tenure, Puducherry would break new grounds in development. "You will see a new Puducherry in three years," he said.