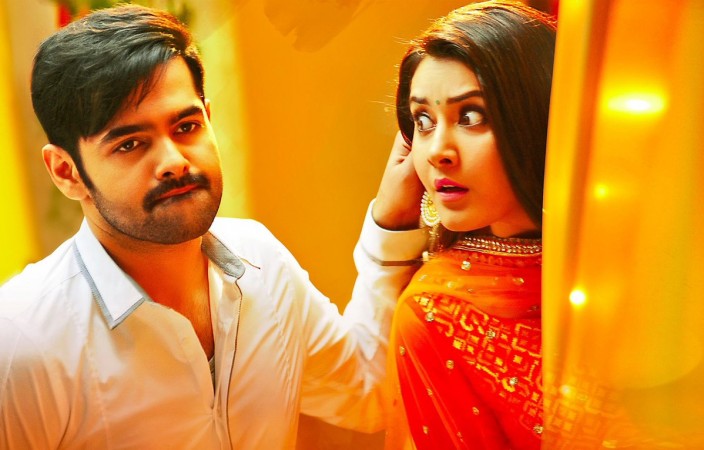 Director Santosh Srinivas' Telugu movie Hyper, featuring Ram Pothineni and Raashi Khanna in the lead roles, has received mixed reviews from the audience.
Movie poster | Movie Stills | Audio Launch Pictures
Hyper is romantic action movie, which is laced with a good dose of comedy, sentiments and commercial ingredients. The movie deals with the bond between a father and son and the director has nicely embedded an important social issue in this mass entertainer.
The audience say Hyper has a routine story and clichéd screenplay. The first half of the movie is entertaining with some romance, comedy and action scenes. The twist before the interval sets pace to the story, but the narration goes slow and drags in parts in the second half.
Ram Pothineni has delivered a wonderful performance and he impresses film goers with his action and comic timing. His performance is the highlight of Hyper. Rashi Khanna has done justice to her role and her glamour is also an attraction of the film. Sathyaraj, Rao Ramesh, Naresh, Tulsi Shivamani, Fish Venkat, Prabhas Sreenu are also assets of the movie, say the audience.
Hyper is produced by Ram Achanta, Gopinath Achanta and Anil Sunkara under the banner 14 Reels Entertainment and it has rich production values. Ghibran's songs, Mani Sharma's background score, picturization and choreography of action and dance are the attractions on the technical front, add the audience.
We bring to you some viewers' verdict on the Telugu film shared on Twitter. Here is the live update of Hyper movie review by audience.
Vikas kanna ‏@Vikaskanna23
Completed 1st half below avg #hyper Only interval and ram nd satya raj scenes are saving mve partially but as a mve it's nothing bad music
Raghava ‏@Raghava4mahesh
1st half superbb #Hyper Ram energetic performance,Sathyraj scenes good interval 10 minutes masses ki poonakale #Hyper Rao Ramesh - Sathyaraj Government office signature scene,Ram interval fight energetic Kandhireega interval range lo untudhi Hyper title song dance @ramsayz kummi avathala essadu pure B,C centers commercial mass entertainer #Hyper
Survi ‏@PavanSurvi
#Hyper -Takes an interesting point (Ethical values in Government Office) & turns it into a lame, over-commercialised melodrama. What a slop.
Dreamy Solo ‏@NK2VLNSK
The film is really great worth every penny of your money you spend watching it on YouTube or at your TV screen! #Hyper
Tarun ‏@tarunredde
Out and out proper telugu commercial cinema.. Ram Energy levels are high. Terrific interval block! Loved it. #Hyper
V Mallikarjun ‏@InsideMalli
#Hyper is full on commercial. Like interesting narration in the first half & the core emotion.
Cinemagala ‏@cinemagala
First half done after a HIGH VOLTAGE interval block. #Hyper Second half is mostly into family emotions till now. #Hyper Pretty routine stuff in the second half #Hyper
Varun Kilaru ‏@varunkilaru
#hyper - bad movie! Strong villain character is a +! Rao Ramesh heroine character is terrible raashi ram was ok but vasu lets him down
Energetic 7 ‏@itsmeyasu
#Hyper review : 3/5 A Mass Entertainer.....#Kandireega History repeats
Entertainment News ‏@Enterta953800
#Hyper: interesting twists,comedy,Dance, Emotional scenes,2songs baby doll and come back. Only -ve is Routine stuff. 3.25/5 (Hit)
MyTollywoodMovies ‏@mytollymovies
Movie started of with a very loud father son relationship Movie moving with racy screenplay and funny scenes with hyper father love. First half review. Masala treatment with predictable screenplay. Emotional scenes rolling. Hero villain clash scenes reminds of every other Telugu mass masala movie ever made. Time for final act.over all the movie is old meals pckd fresh. Below average.
Govindaraju ‏@bhanuputhra58
#hyper 1st half very good, 2nd half same routine telugu film. Bt entertaining. Last 30mins is really good
Jalapathy Gudelli ‏@JalapathyG
#Hyper: Has entertaining first half but treads regular path in the 2nd half. Overall, okay mass movie. Rao Ramesh steals the show again.
Bhavadeep ‏@BhavadeepReddyS
Rashi khanna saved 1st half.2nd half too good.as usual @ramsayz did his best.overall good movie #Hyper.Dir Santosh Srinvas direction good.
$rinu ‏@Shreyashsrinu
Hyper movie interval bang is super it's new kind of movie .good note satyaraj character is so good as govt officer.#hyper @14reelsofficial
ACP Bose ‏@Mr_Powerstar
Good 1st half..below avg 2nd half..Overall pulihorised movie ye..kothaga peekindemi ledu..Ram gadu ide role yenni cinemallo chesthado #Hyper
Naveen Kumar ‏@naveenkumarsayz
Anddddd #Hyper is 100% pakka paisa vasool entertainer..@ramsayz shown his HYPERactive performance.BLOCKBUSTER! @14reelsofficial @RaamAchanta Onething I should talk about #Satyaraj #RaoRamesh @murlisharma72 performances..... main pillars of the film.. #Hyper...SUPER HIT!
UdayReddy Gadiko ‏@udayreddy14
#Hyper 1st half completed Interval superbbbb @ramsayz #satyaraj @14reelsofficial
Mahesh ‏@maheshreddy365
1st half completed #Hyper ..superrrrrrrr interval block.... @ramsayz concept was nice... Entertaining
Happy B'Day #PURI# ‏@UrstrulyPuri
#Hyper kummindi 1st half...@ramsayz energetic performance and Rao Ramesh and Sthya Raj @14reelsofficial ready aipondi...Pakka paisa vasool
Chandrakanth ‏@itschandrakanth
#Hyper One time watchable film (2.75) Satya Raj ,Rao Ramesh ,Murali Sharma Top class Performances .#Santosh Srinivas Will come backkk .
Manikick Reviews ‏@ManiKick
#Hyper first half: Interval block elevation scenes are good. BGM and songs are big drawbacks. As usual @ramsayz showed his energy on screen.
Rayarao Sriram ‏@rayaraosreeram
#Hyper : A very interesting point conveyed in routine manner. Commercial formula film.
Venkat ‏@Chitriyala
#hyper Movie Review & Rating: Hyper is for Pakka Entertainer Combo of this week. Rating: 3/5
ρяÑ"мαм ‏@Kathilantodu
Routine commercial film #Hyper First half Second half parledu 2.999/5
VJ1909 ‏@vj1909
#Hyper Average movie with few good commercial elements,might work in B,C centers.
విజేత ‏@Shekar_News
#Hyper Is Just Another A Routine Rotten Irritating Movie.
#JG - #ISM ‏@udaysimha_NTR
Verdict: #Hyper - 'Hyper' is a complete entertainer with all the emotions in right proportions. Rating 3.5/5
Lab Reports ‏@Inside_Infos 9h9 hours ago
Just Average - #Hyper Kandireega>>>Hyper>>>Rabhasa