Self-styled godman from Omojaya Baba Ashram of Sri Bhavathi Kshetram was booked for sexual harassment by the police in Hyderabad on allegations of exploiting girls after offering them drugs in the form of holy water.
Hindu Vahini has reported that some women devotees, who frequently visited the Omojaya Baba Ashram, have alleged that he was mixing drugs in the 'theertham' (holy water) and offering it to them. When they were intoxicated, he used to sexually exploit them. The devotees also complained some female devotees had gone missing after entering this Ashram.
The activists of Hindu Vahini staged a protest in front of the Omojaya Baba Ashram after hearing the allegations against the godman from a girl's parents. The activists claimed that the girls visited the Ashram to get peace, but the godman made them drug addicts and harassed them sexually.
"Omojaya Baba has built the Ashram and has been running a business racket for years. Some girls have ended their lives owing to the harassment of the baba, while a few of them went missing. The Baba should be arrested for all his alleged activities happening inside the Ashram," said the leader of this activist group.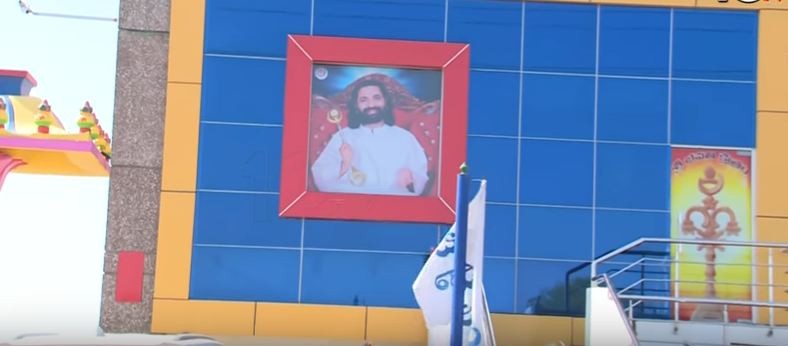 The Keesaragutta police visited the Omojaya Baba Ashram immediately after they learned about the issue. But the disciples of the godman reportedly closed the doors and not allowed them to enter the Ashram.
Meanwhile, parents of a victim girl have complained that their daughter had gone missing from the Ashram.
Talking to TV9 Telugu, Ravindra, father of the missing girl said, "The Baba came to this place 24 years ago and my elder brother and his wife started visiting the Ashram for the last 12 years. Even my daughter used to accompany them to attend the lecture and discourses during the Guru Purnima days. Suddenly she's gone missing."
But a disciple of the Omojaya Baba Ashram has denied Ravindra's allegations. "His daughter had recently spoken to him for two hours and the lawyer, who represents the Ashram in the High Court was also present on the occasion. The whole conversation was recorded on camera and saved in this pendrive. You can watch it," the disciple told TV9 Telugu.