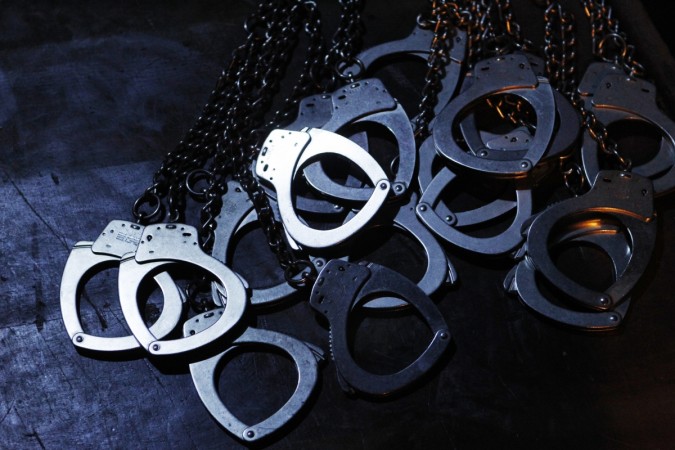 A dangerous explosive called triacetone triperoxide (TATP) that the Islamic State (IS) group had used during the attacks in Paris and Brussels was found in the basement of the Hyderabad house of one of the arrested suspects Abdullah bin Ahmed Al Amoodi's during investigations conducted over the last three days.
The ISIS module had targeted VVIPs, government buildings including police stations and crowded places to carry out the violent attacks, the Times of India reported. TATP can be easily made in a basement lab under controlled conditions with chemicals that are easily available at pharmacies, hardware shops and cosmetics stores, making it a popular choice of terror groups like al-Qaeda and ISIS. The explosive does not need a commercial metal detonator making it easier for terrorist groups to beat traditional screening methods.
The five Islamic State group terror suspects arrested by the National Investigation Agency (NIA) in Hyderabad on Wednesday had planned to carry out serial blasts across the city following the successful testing of an improvised explosive device (IED).
According to the Hindustan Times, the NIA intercepted a call between two of the members while they were discussing the successful testing of an item that had a range of 70 metres and was also tested using sand bags. The conversation happened on June 24, five days before they were caught.
"They were definitely discussing the fabrication of an IED. They had gathered enough explosives to make at least 30 to 40 IEDs which they intended to use anytime in the city. This was the first group of IS-sympathisers busted so far in the country that managed to make IED," a senior NIA official was quoted by the daily as saying, on the condition of anonymity.
A Deccan Chronicle report states that the suspects confessed to the NIA and Telangana intelligence officials that they had planned "mass killings" in Hyderabad before Id. Shafi Armar, their handler, used to show how to make the bombs and they used electronic scales to weigh the IED ingredients", an official said. They had decided to carry out the attacks on July 2.
"They had purchased firearms and some explosives in Maharashtra and other chemicals like urea and Hydrogen Peroxide in Hyderabad. They had gloves, masks, electronic balance and other material to make Improvised Explosive Devices. This shows that they were ready to strike," the daily quoted a source from the Telangana Intelligence Department as saying.
According to the Economic Times, Rs. 15 lakh in cash and a couple of 9 MM pistols were also seized from Mohammad Ibrahim Yazdani, the leader of the group.