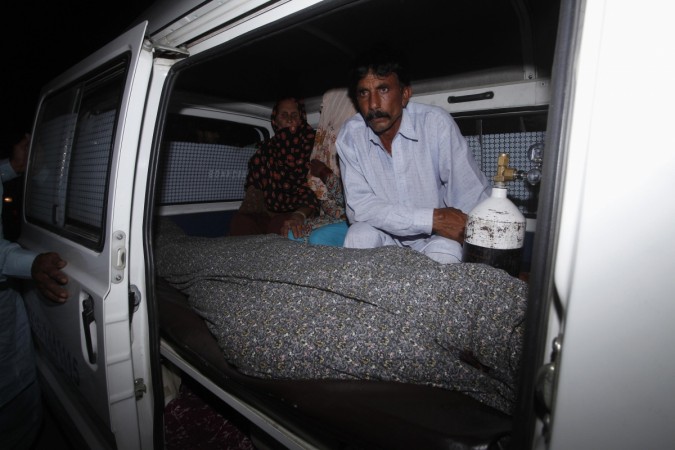 The case of the pregnant Pakistani woman, who was stoned to death in broad day light in front of Lahore High court has taken an ugly turn, as the husband, who on Wednesday accused the police of standing by and doing nothing while his wife was stoned, is himself alleged to have killed his first wife before marrying the woman in question.
This comes after Mohammad Iqbal had earlier said that police were present during the time of the incident, but they simply stood by as his wife was brutally murdered by the mob.
In the incident, first reported by Reuters on Tuesday, nearly 20 members of Farzana Iqbal's family, including her father and brothers, attacked her and her husband with batons and bricks.
The death has been dubbed as "honour killing" as she had married the man she loved without the consent of her family.
Police have reported that Farzana, who was three months pregnant, was killed in the attack, with a group of onlookers doing nothing to save her.
But further investigation into the case showed that her husband had earlier killed his first wife, a source in Sharif's administration said, reported Reuters.
Iqbal had told news sources that police had done nothing during the 15 minutes of the violence that lasted outside Lahore High Court earlier in the week.
"I begged them to help us but they said, this is not our duty," he told Reuters. "I took off my shirt (to be humble) and begged them to save her."
However, the barrel was instead turned towards Iqbal himself on Thursday, when a source in Prime Minister Nawaz Sharif's administration quoted a Lahore police report and noted that Iqbal was had reportedly killed his first wife.
"The person, Iqbal, who she had married ... had actually killed his own wife in an earlier case and remained a proclaimed offender. He was later arrested and was released on bail. Not a pristine character," the source told the news outlet.
On Tuesday the deadly broad day-light murder unfolded as the woman was waiting for the High Court in Lahore to open. A group of around 12 men began attacking her with bricks and batons, said Umer Cheema, a senior police officer.
Farzana's father, two brothers and former fiancé were among the attackers. Having sustained severe head injuries, she was taken to a nearby hospital by a passerby but was declared dead on arrival.
Her father admitted to the police of having killed his daughter, and explained that it was a matter of honour. Many Pakistani families are of the view that a woman marrying a man of her choice, without the consent of her parents or elders, brings dishonour to the family.
Meanwhile, Prime Minister Sharif had demanded to know why police stood by while Farzana was stoned to death by her family.
A statement from Sharif's office described the largely publicized incident as "brutal killing" and said it was "totally unacceptable".
"I am directing the chief minister to take immediate action and a report must be submitted by this evening to my office," it quoted Sharif as saying.