Ghulam Nabi Sumji, a close aide of hardline Hurriyat leader, Syed Ali Shah Geelani and General Secretary of Huriyat (G) group, who is in the thick of controversy over seeking an increase in the MLA pension from the state government told the International Business Times, India that he is not the only Kashmiri separatist leader asking for remuneration.
Sumji, one of the richest separatist leaders admitted that he asked for a raise in pension because he considers it his right.
"Why only I am being dragged into this? There are several colleagues of mine who are also drawing pension and arrears from the government. The wife of the late Hurriyat leader, Abdul Gani Lone also draws pension and so does another senior Hurriyat leader. Besides, if we worked as government servants, we have every right to ask for it." Sumji said.
When asked how will he explain drawing favours from the government when he is against the Indian government, Sumji said that he is still opposed to the 'Indian occupation' in Kashmir but would claim his right over pension and other arrears.
"My ideology and political affiliation cannot bar me from seeking my rights," Sumji added.
He denied that Geelani is also withdrawing pension from the government. He said that he would explain his position before the Hurriyat leadership and that he is not ashamed of anything.
Sumji is currently drawing MLA pension of Rs 47,000 per month. However, as per the recent amendments to the State Legislature Pension Act, medical allowance and pension of ex-MLAs have been raised by the state government.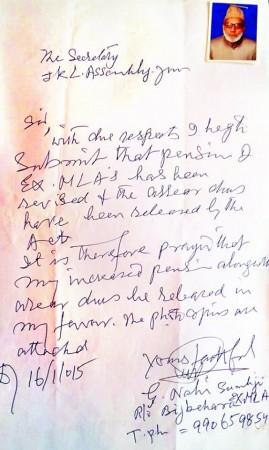 The letter read, ""Sir, with due respect I beg to submit that pension of ex-MLAs has been revised and the arrear dues have been released by the Act. It is therefore prayed that my increased pension along with arrear dues be released in my favour. The photocopies are attached".
Sumji was an MLA from South Kashmir's Bijbehara constituency from 1987 to 1989 when he contested the J&K Assembly elections alongside Geelani for Muslim United Front, an Islamic political organization.
Sumji along with other colleagues later quit as an MLA and joined the separatist movements against the Indian state with Geelani spearheading the agitation.
The Hurriyat (G) has also been advocating the involvement of Pakistan in any talks with India for the settlement of Kashmir issue