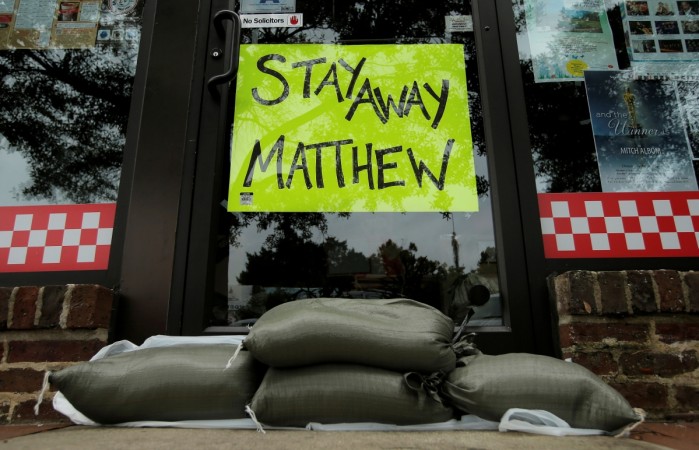 Twitterati and Hollywood celebrities have extended their support to the victims of Hurricane Matthew, the first Category 5 Atlantic hurricane since Hurricane Felix in 2007.
Hurricane Matthew, which killed more than 339 people in Haiti, is approaching Florida's coast and is carrying winds of 140 mph (220 kph).
Celebrities including Ellen DeGeneres, Kerry Washington, Mark Ruffalo, Kris Jenner, Ariana Grande and Nicki Minaj have tweeted supporting people affected by the most powerful Caribbean storm in a decade.
Check out what celebrities have tweeted about the most powerful storm in a decade:
Reese Witherspoon: My prayers go out to all of those affected by #HurricaneMatthew Praying for safety
Mark Ruffalo: Brothers and sisters of #Florida be safe.
Nicki Minaj: Sending all my love to everyone being affected by #HurricaneMatthew
Ellen DeGeneres: To my friends on the East Coast — if you are in the path of #HurricaneMatthew, please be safe. You are in our thoughts.
Josh Groban: Hang in there, Floridians #HurricaneMatthew
Missy Elliott: Prayers for everyone being affected by #HurricaneMatthew...
Kerry Washington: Sending prayers up. #HurricaneMatthew
Garth Brooks: With the latest news of #HurricaneMatthew we want to keep safety as a first priority-Team G
Robbie Williams: Heartbroken to see the people of #Haiti having to deal with #HurricaneMatthew.
Patricia Arquette: Prayers to those in Florida
Vicki Gunvalson: Sending my thoughts and prayers to all of those affected by Hurricane Matthew. Stay safe Florida!
Lisa Vanderpump: Stay safe Florida...#prayers
Brandi Glanville: Praying for my loves in Florida @JenniferGimenez and @markhasche
LaToya Jackson: 'May the Lord keep those safeN the path of Category 4 #HurricaneMatthew this #FridayEve N #Florida #ThursdayThoughts Please Be #Safe #Prayers
Eve: My thoughts and prayers go out to all of those in Haiti affected by #HurricaneMatthew. For those in its path, please stay safe
Rihanna: My heart absolutely breaks for Haiti!!! Prayers up for my brothers and sisters who've fallen victim to this tragic event!
Mia Farrow: For Haiti, where hundreds of thousands of families are still living in tents, this hurricane will be devastating #PrayersForHaiti.