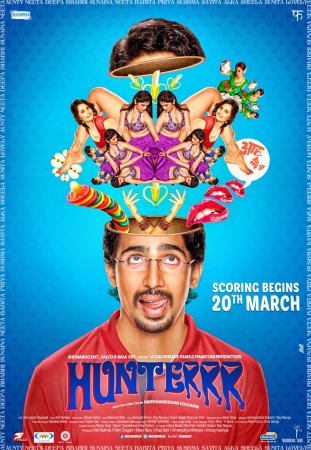 "Hunterrr" is an adult comedy starring Gulshan Devaiah, Radhika Apte and Sai Tamhankar in lead roles. The film tells the story of a sex addict and his lustful journey.
Directed by Hashvardhan Kulkarni, the film has been produced by Kirti Nakhwa, Rohit Chugani, Ketan Maru, Vikas Bahl, Vikramaditya Motwane and Anurag Kashyap.
According to critics, the film sticks to its genre and talks about sex. The film is a not a sleazy sex comedy, but a genuine attempt to showcase a sex addict's story, critics said.
Read the reviews below:
Deepanjana Pal of Firstpost said: "There is one way to make Hunterrr feel bearable. Imagine it is the prequel to another Phantom production: NH10, and pretend Anushka Sharma's character is named Tripti instead of Meera, and she's married to a man named not Arjun, but Mandar."
Surabhi Redkar of Koimoi.com said: "Watch it if you can handle a film that talks about sex in a lighter manner through the eyes of a sex addict. It is witty and funny, also quite relatable to men. Not meant for family audiences or people with tastes for massy films."
Bollywood Hungama News Network in its review said: "Had the film's cinematography (John Jacob Payyapalli) been more taken care of, it would have definitely made a difference to the film. If you like naughty comedy full of witty lines, then HUNTERRR is a must watch for you."
Vijay of Desimartini said: "Hunterrr is a cute small film, more sweet than sleazy, so if you are wondering if its a sex-comedy one can watch with family, Yes you can. The true question is if one must watch this in the theater at all....the answer to which is sadly not."
Prateek Sur of BollywoodLife.com said: "The plot of the film makes you nostalgic and at the same time makes you ponder as to how your life might be if you are not married till the age of 40. Gulshan Devaiah is fab. His nuances in the character are fantastic."