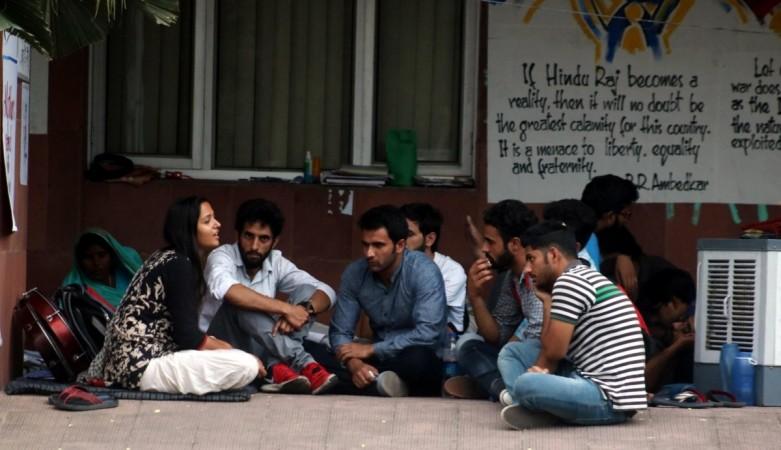 More than 200 students allegedly confined top administrative officials of Jawaharlal Nehru University in New Delhi through Wednesday night over a missing student. Najeeb Ahmad, a first-year MSc student, has been missing since October 15 after a brawl took place on October 14. The university is often in news for various protests.
"There is no electricity. The VC, and many other officials are inside and feeling suffocated," Chintamani Mahapatra, the rector, was quoted as saying by the Times of India.
The protesting students are demanding that the JNU administration appeal to Najeeb to return without any fear of victimisation. They said that the administration has been insensitive in dealing with the matter, and blocked the administrative building by lying down outside.
"They have wrongfully confined us since 2.30 pm with unreasonable demand like bring Najeeb immediately. These things are not in our hands but with the police. We are doing whatever we can. We also want safe return of Najeeb. But they (students) have not even listened to our plea. There is a lady official who is unwell and she too is inside," M Jagadesh Kumar, the vice chancellor, said.
JNU students' union president Mohit Pandey had earlier said that they were blocking the administrative building. Later, he said that they did not block, and have instead told officials to walk over them even as hundreds of students are lying down outside the building in protest.
"They are asking the JNU administration to make an appeal to Najeeb Ahmed to return to JNU without fear of any victimisation. But that was done at around 11.30 am itself and the same was uploaded on the website in the afternoon. Then they are asking why the administration has not lodged an FIR. But the administration had already written to the police multiple times and is in constant touch. Therefore, this is nothing, but illegal confinement and politicising and communalising the matter to create unrest in the campus," an official said. The university reportedly approached police to file the FIR only to learn that his family had already done so.
Najeeb remains untraceable so far. JNU officials also launched an inquiry on the violence that took place on October 14.
The students and the administration were at an impasse on Thursday morning as well, with Najeeb still missing.