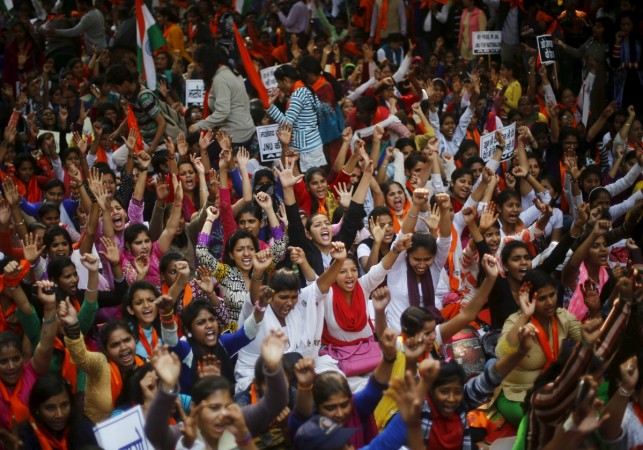 Polling to elect president, vice-president, secretary and joint secretary of Delhi University Students' Union (DUSU) and Jawaharlal Nehru University Students' Union (JNUSU) began on Friday morning.
Voting for the elections of Delhi University began at 8:30 a.m. across 117 booths, which were set up at 51 different colleges, while JNU's elections started at 9:45 a.m. The elections for the morning colleges were held till 12:30 p.m. and the polls will begin for the evening colleges at 3 p.m. and end at 7 p.m.
A total number of 17 candidates are in the fray for the four different posts of DUSU office-bearers, according to the chief election commissioner of DUSU polls. Of the 17 candidates, four are in the race for the presidential post, four are running for the vice-presidential post and three each are running for the post of secretary and joint secretary.
Reports state that the results of the elections will be declared on Saturday, soon after the vote counting is completed.
The major parties in the fray in JNUS elections are All India Students' Association (AISA), Akhil Bharatiya Vidyarthi Parishad (ABVP), National Students' Union of India (NSUI), Birsa Ambedkar Phule Students' Association (BAPSA) and a new contender, Students for Swaraj. A total number of 18 candidates are contesting the polls in the JNU elections, where over 8,600 voters will cast their vote.
While EVM machines are being used for casting votes in the DU elections, JNU has opted for ballot papers. DU has also introduced NOTA (None of the above) option for the first time in its elections, although JNU has been using the option for years.
At DU, the 2015 polls were swept by ABVP, which trounced NSUI and AAP's Chhatra Yuva Sangharsh Samiti (CYSS) to bag all the four positions. The AAP's student wing is not contesting the polls this year.