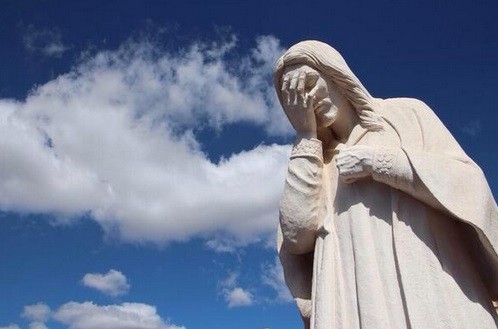 It comes as no surprise that the internet is running amok on a mocking-spree as the record-setting defeat of Brazil on Tuesday left everyone on earth in utter shock.
Brazil was pummeled by mighty Germany in an unbelievable 7-1 score while crying, wailing and chest-beating Brazilians experienced the worst nightmare of their lives.
In the internet though, the results quickly triggered a ceaseless round of jokes and memes, where notorious pranksters sought to rub salt and vinegar to the already excruciating Brazilian wound.
Here is a look at a few hilarious ones:
Brazil's Plan B against Germany!!! pic.twitter.com/CabWbs65bt

— Rajiv Makhni (@RajivMakhni) July 9, 2014
Meu deus! pic.twitter.com/0K2WyP1kId — Pablo (@PabloStecco) July 8, 2014
Brilliant. Brazil 1-7 Germany summed up in a single vine. #BRA #GER http://t.co/GDFQ7I0HXL

— thepunterspage.com (@ThePuntersPage) July 9, 2014
'Defender,' they said. pic.twitter.com/G5Q1RiY9od — Off The Post (@offthepost) July 8, 2014
Scolari . FAIL! ! pic.twitter.com/fj5v1Zo9h8

— banterfootyLAD (@banterfootyLAD) July 8, 2014
#GERBRA pic.twitter.com/SV6qdhMIVU — Luna Hamann (@LunaHamann) July 8, 2014
David Luiz's 1st half heat map!! #GER #BRA pic.twitter.com/vg5t2b6MCj

— The Football Jester (@FootballJester) July 8, 2014
LIFT OFF: Man like Jesus Christ... (via @prakashmgurnani) pic.twitter.com/Dnfaovt2SZ — Chef (@champ_ian) July 8, 2014
@THEJamesWhale Christ the pub goer? #bbcworldcup pic.twitter.com/uwDu5pda3X

— Tom Poole (@TomPoole007) July 8, 2014
Tweet muto. pic.twitter.com/bBFFLJmgQY — Andrea (the Coach) (@MeStesso79) July 8, 2014
Ach Du grüne Neune! #BrazilvsGermany pic.twitter.com/ZWZFAxLsJL

— Russian Market (@russian_market) July 8, 2014
Pictures just in of the Brazil team leaving their hotel this morning: #WorldCup pic.twitter.com/UEdIMQypiw — Joe Morrison (@joefooty) July 9, 2014
Your reaction to BrazilvsGermany match was the best http://t.co/MpheK59sro pic.twitter.com/B918yFPp09

— The Independent (@Independent) July 9, 2014
Forget that Germany beat Brazil 7-1 last night? The internet hasn't! Here's all the top virals http://t.co/4GZGLrU3Df pic.twitter.com/VYnMbRpkKD — MailOnline Sport (@MailSport) July 9, 2014
Brazil Has A New Flag http://t.co/lM16EJ7jVb pic.twitter.com/0qGqDrGc3b

— The Poke Kitchen (@thepokekitchen) July 9, 2014
Dad and me are replaying last nights game. Anyone want to come round and be Brazil. You wont have to do much!! pic.twitter.com/FanHf13hbI

— Johnny coolcat (@Johnny_coolcat) July 9, 2014
The angriest/saddest fans in Brazil right now--PHOTOS: http://t.co/mBLYuA0xoC pic.twitter.com/2AXrWgQJMm — Slate (@Slate) July 9, 2014