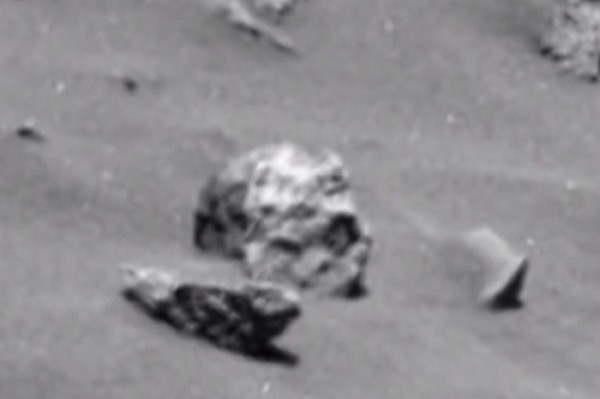 A recently discovered NASA photograph of what looks like a human skull lying on the surface of Mars has intrigued many people with a lot of buzz on social media platforms.
The image was reportedly taken by the panoramic camera on the Spirit rover in the planet a few years ago, but gained notice recently after the Paranormal Crucible website posted a YouTube video of the image with digital alterations to make it look even more like a skull.
Although the digitally altered picture of the image appears to push the theory that Alien creatures could have lived in the red planet, the image itself does not seem to be convincing enough to draw any conclusion. Many would only argue that it is nothing more than just another rock in the planet.
The Huffington Post said there was no way the photo could be convincing enough to say alien creatures lived in the mysterious planet in some corner of the history.
However, arguments provided by the popular UFO Sightings Daily blog does give us a reason to think if there could be some chances the answers to the age-old alien theory could be solved by this picture.
The blog — popular for this compilation of evidence of the existence of UFO and aliens – said that there is an 80% chance it's a real skull, and says it is about 15 to 20% longer than a normal human skull, making the being about 9 or 10 feet tall – just like what an alien is sometimes imagined to be.
"This obviously confirms that giant humanoid beings, once roamed the Martian landscape," the website notes, going as far as to digitally add "teeth and a lower nostril bone" to show how the specifics fit.
"Right away this object in the photo just grabs you. An alien skull with the jaw bone missing or buried below it," the blog said on Wednesday. "You can make out the nasal cavity and the two eye sockets without any trouble. You can even make out the ridge above the eye sockets."
However, lack of solid scientific verification and a dearth of enough evidence leave the piece of 'skeleton' to be just another unsolved Martian mystery.