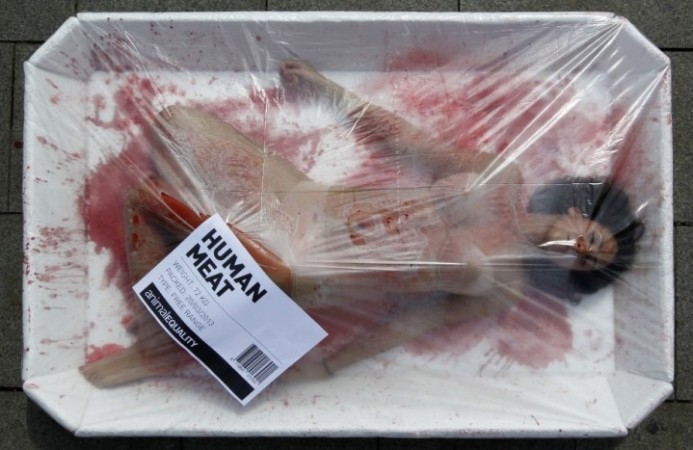 The Nigerian Special Anti Robbery Squad has unearthed a gang that specializes in the sale of human meat and body parts. The group told the police that they make at least over $6000 by sale of human flesh, including the body parts.
The arrests were carried out in Lagos, where the investigators carried out an undercover operation to nab the culprits. The gang collect dead bodies of road accident victims, corpses from hospital and if they were in dire need, they would even kidnap people, the police said.
The local daily, Vanguard, reported that the gang members also used to engage in selling live humans to Witch Doctors for human sacrifice that also involved eating of human flesh and blood.
An accused detailing their exploits, however, told the police that there were more profits to be earned from dead humans than alive one. An accused confessed that live humans were sold for a mere $250, while by the sale of human meat, along with various parts could bring them at least over $6000.
The gang members would "use the blood for preparing ritualistic concoctions. Similarly, the head, intestines, liver, heart, eyes, lips and tongue were used for making pepper soup. The private parts of the victims were used for preparing potions to increase once potency," the daily reported.
The undercover agent during the operation was negotiating for the head of a women, for which the gang was haggling for $200, when the police raided the hideout. The police found several decomposed bodies and body parts.
Earlier in February, the Nigerian police had shut down a local hotel after it was found that the restaurant was serving human meat. During the raid, the police found that human flesh was sold as an expensive treat at the restaurant, while roasted human head was also part of the menu.
The hotel owner and 10 others were arrested in this connection. And the police recovered two heads wrapped up in a cover, besides several clothes, guns and ammunition, reported the Osun Defender.
In the past, there have been several cases of cannibalism reported in Nigeria, where largely owing to lack of education, people fall prey to superstitious beliefs and practises.