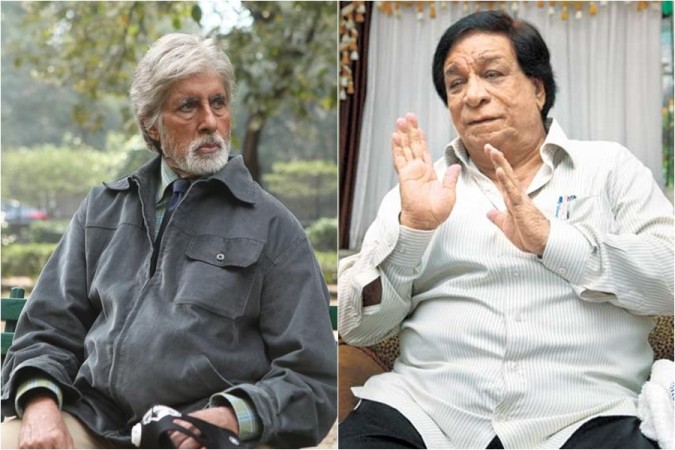 Senior Bollywood actor Amitabh Bachchan has slammed reports that "hum jahan khade hote hain", the popular dialogue from 1981 Hindi movie Kalia, was written by late actor Kader Khan.
The Times of India published an obituary titled - Man with best comeback lines departs in which the newspaper claimed that Kader Khan was a prolific dialogue writer and the popular dialogue from Kalia was written by him.
"In his prime, Khan was Bollywood's most-prolific dialogue writer, one with a keen sense of mass appeal. The Kabul-born writer's dialogues could produce claps and wolf-whistles from frontbenchers, evoke laughter, make handkerchiefs wet. He wrote lines that both 'taporis' and college students would repeat outside the theatres: Hum jahan khade hote hain line wohin se shuru hoti hai (Kaalia, 1981), or Aisa to aadmi life mein do heech time bhaagta hai... Olympic ka race ho ya phir police ka case ho (Amar Akbar Anthony, 1977)," TOI reported.
After reading this report, Amitabh Bachchan took to Twitter to offer a clarification on it. The senior actor tweeted, "T 3046 - WITH DUE RESPECT , TOI column on Pg 3 of today , "Man with best comeback lines departs" mention of dialogue "hum jahan khade hote hain .. " is attributed to Kader bhai .. WRONG ! It was written by eminent writer Inder Raj Anand, father of Tinu Anand dir prod KALIA film (sic)."
Kader Khan was an Afghan-born Indian-Canadian film actor, screenwriter, comedian, and director. He had made his debut film in the 1973 film Daag and later went to appear in over 300 films. He had been suffering from supranuclear palsy and was hospitalised on December 28, 2018 in Canada. He breathed his last while undergoing treatment.
Kader Khan had also worked with Amitabh Bachchan in some movies. After hearing the news about his death, Big B tweeted, "T 3045 - Kadar Khan passes away .. sad depressing news .. my prayers and condolences .. a brilliant stage artist a most compassionate and accomplished talent on film .. a writer of eminence ; in most of my very successful films .. a delightful company .. and a mathematician !!"