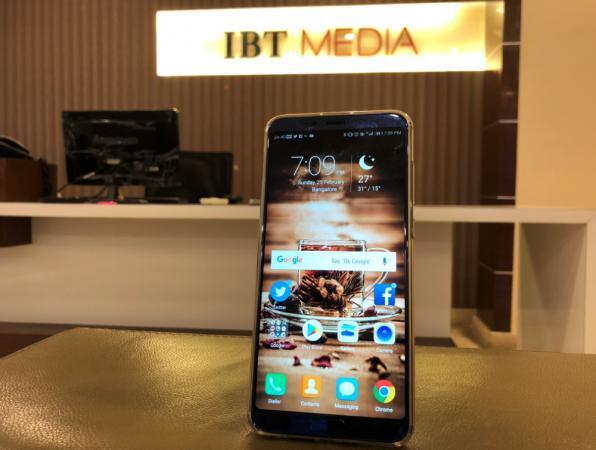 After launching the feature-rich budget smartphone Honor 7X, the Huawei-subsidiary within a month released another model, Honor View 10, in late December. Unlike the former, the new device comes packed with top-of-the-line hardware but costs much less than what other premium phones sell for.
Huawei Honor View 10 is lone tier-1 branded smartphone to house a dedicated NPU (Neural-networking Processing Unit) co-processor. It helps the phone to independently analyze (artificial intelligence-based deep learning) user behavior and assist them in completing a task and also offer tips on how to make the best use of the all the phone has to offer.
Also, during the testing period, Honor View 10 received a major software update bringing the much awaited face-unlock feature, making it one of most feature-rich, if not the best upper mid-range (Rs 20,000 to Rs 40,000) phone in the market.
Complete review of the Honor View 10:
Build quality, design, and display:
Honor View 10 flaunts high-grade metal shell on the back and we can feel its sturdiness and premium material in our hand, and yet, it offers good grip for the fingers to hold down to it. Thanks to ergonomic design, the candy bar shaped phone though major part of it is covered by screen (5.99-inch), can be used single-handedly and we appreciate the company for generously offering the phone with display guard (tempered glass) on and also shell cover for the extra protection as part of the whole package, which rival brands rarely offer.
As far as the display quality is concerned, Honor View 10 sports a 5.99-inch FullView display having 18:9 aspect ratio, on par with current premium phone brands in the market. With full HD+ (2160x1080p) resolution, we enjoyed playing high definition Amazon Prime Video content and delivers cinematic viewing experience, as promised. In terms of visibility, while using the phone in the bright sunny day, it fared well, as I was able to view messages and browse the internet without straining my eyes.
Performance:
Honor View 10 comes packed with the company's proprietary 10nm class HiSilicon Kirin 970 processor backed by dedicated NPU (Neural-networking Processing Unit) co-processor, sumptuous 6GB RAM, and 128GB storage.
With such high-end processor, it lived up to our expectations. Honor View 10 works blazing fast in terms of loading apps, switching between and most importantly, it showed no sign of lag-ness while playing graphics-rich video games and also watching high-resolution videos.
It scored a respectable 1,74,848 points on AnTuTu benchmark app, and on Geekbench 4.0, Honor View 10 got 1,899 and 6,714 points in terms of single-core and multi-core tests, respectively.
AI-powered NPU: The game changer
As said before, Honor View 10 is the lone phone in the market to come with a dedicated NPU processor for AI-based machine learning within the device. During the interaction between Honor India's senior software engineers at Huawei's R&D center in Bengaluru, they said each device learns the owners behavior and improves user-experience over time and most importantly, the information it gathers always stays within the device and does not go any remote server, provided the user has agreed to share the information via third-party social media apps.
During the testing, we witnessed NPU in action. For instance, the phone recognized my penchant to share photos on Twitter, covering product launches and doing live updates. For the first time, I had to look for a Twitter app to share images, but after continuous usage, Twitter pops-up first in the media sharing list and also while doing the live tweet updates, I tend to use hashtags and there too, phone suggests same hashtags making my work easier than before.
Also, the phone always tracks the apps working in the background and kept me informed about power-hogging apps and asks me if I want to shut the particular app. With this feature, it has helped the device run through the whole day if not more, and the standby time of the Honor View 10 is amazingly long (more than a week with mobile data on).
Also, the camera makes full use of the NPU, more on that in the below section.
Camera:
Honor View 10 comes with a great set of camera hardware both on the front and the back. The primary snapper takes stunning images in bright light conditions and the NPU too makes its presence felt, when taking the photo, as it intuitively scans the scene to identify whether the subject is in an exotic locations such as hills, beach and is intelligent enough to differentiate between pet animals, flowers, and humans, and optimizes the camera settings to take the best possible snaps. We were also impressed with low-light images too.
As far as the front-camera is concerned, it too captures really good selfies with the option of beautifications modes, which helps in toning the skin color and makes it appealing to social media sites. And, with wide angle feature, it accommodates more people for group photos. For a person with short hands like me, it is a boon.
Another notable aspect of the Honor View 10 is its Bokeh blur effect feature, which by the way is available on both the front and the back. Check out the sample images below.
Also, during the testing, Honor View 10 received security update with face unlock feature. We tried it and works flawlessly, but only in the bright light condition, same as rival brands such as OnePlus 5T and Samsung Galaxy S8 and the Note8 series.
But, nobody comes close to the Apple iPhone X, which by the way can scan owners face and unlock even in the pitch dark night.
For those unaware, Honor View 10 comes with a feature-rich dual-camera, primary 16MP (RGB) sensor and a secondary 20MP (monochrome) sensor with f/1.8 aperture, LED flash, PDAF (Phase Detection Auto Focus), CAF (Continuous Auto Focus) and 4K video recording capability.
it houses equally impressive 13MP camera with f/2.0 aperture and for selfie lovers, the phone offers beautification feature to adjust skin tone, complexion and also erase a scar if any. Most importantly, it offers the Portrait mode, that allows users to take Bokeh picture with blur effect in the background.
Battery:
Honor View 10 comes packed with 3,750mAh battery. Theoretically, it is more than enough to run the whole day under mixed usage. But, during the test (active hours: 5:30 am to 10:00 pm), it was able to last longer under same conditions. I used to start the day with Google news on the phone, browse through social media apps such as Twitter, Facebook and over the day, I briefly take audio calls, read multimedia messages on WhatsApp, while returning home via bus, I binge watch Amazon Prime Video contents and a few minutes of Asphalt 8 video game, and yet when retiring around 10 pm in the night, the Honor View 10 had more than 20 percent juice left.
If used more conservatively, Honor View 10 can last one and a half day.
Final thoughts:
Dedicated AI-based NPU co-processor makes Honor View 10 a true flagship killer phone
The Honor View 10 has impressed me immensely. Lately, a lot of companies are loosely throwing the word 'Artificial Intelligence' without much physical proof of how the algorithm has improved the phone's capabilities or most importantly, the user experience. But, with the Honor View 10, I witnessed the NPU in action, several times over two months of active usage.
Honor View 10 is a beast in terms of performance and showed no sign of lag-ness during the entire testing period. As far as the camera, it is one of most feature-rich in the market and with NPU working in the background analyzing the scene in terms of lighting conditions and also type of the location from scenic landscape to indoors and make it look appealing.
The battery life too is very long lasting, again thanks to the NPU.
Overall the Honor View 10 is a complete package. If anybody is looking for a flagship phone that won't burn a deep hole in the pocket, just go for the Honor View 10, it has our stamp of approval.
Pros:
Its dedicated AI-NPU is a game changer
Gorgeous display
Beast-like performance
Excellent camera
Long-lasting battery
Cons:
There's no negative aspect of the Honor View 10. But, for people who care about aesthetic looks, its rear-side camera bump may turn them off. The dual-camera on the back creates uneven balance when the phone is kept flat on a plain surface. But, it's not at all a deal breaker, as the device comes with shell-cover inside the package and it evens the surface out.
Stay tuned. Follow us @IBTimesIN_Tech on Twitter for the latest news on technology.