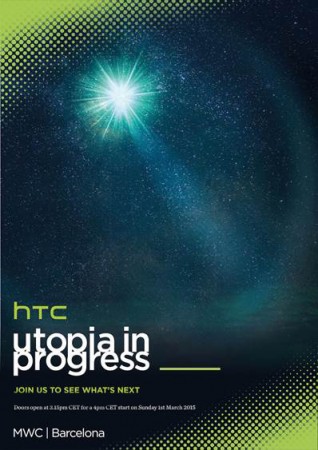 Though the Taiwanese company is being tight-lipped on the upcoming HTC One (M8) successor, internet is abuzz with reports that 2015 flagship phone One M9 will be major upgrade over its predecessor in terms of hardware.
That's not all. Rumour has it that the company may ditch 'One M' series branding and come with a new HIMA series.
HTC has even begun sending out invitations on media houses for event scheduled on 1 March at Barcelona, which is playing host to the MWC (Mobile World Congress).
The invitation reads - "Utopia in progress. Join us to see what's next," sparking off huge excitement among fans who are expecting the company to knock socks off their feet.
HTC One (M9) aka HIMA - Display and Build:
It is learnt that the HTC One M9 aka HIMA will keep the critically acclaimed zero-gap Unibody design seen in the previous flagship One series and will flaunt Aluminum and Silicon-carbide alloy body to give a touch of premium finish.
On the front side, the HTC device will sport the QHD (aka 2K: 2,560x1,440p) display, which has become new standard among premium phones in the market.
Even the arch-rival Samsung is also rumored to launch Galaxy S6 with same display specifications.
[Note: Oppo Find 7, Samsung Galaxy Note 4, LG G3 and the 5.9-inch Google Nexus 6 have similar 2560x1440p display specifications]
HTC One (M9) aka HIMA - Processor, RAM, Storage capacity:
Early this week, Rival Xiaomi launched Mi Note Pro phablet, world's first handset to boast of Snapdragon 810 processor.
[Read More: Xiaomi Mi Note vs. Mi Note Pro vs. Apple iPhone 6 Plus: Price, Specifications and Everything You Need to Know]
HTC too is reported to have incorporated the 64-bit architecture class Snapdragon 810 SoC (System on Chipset) aptly supported by sumptuous 3GB RAM in the HTC One M9.
Even rivals, Samsung, Sony and LG are all slated to launch flagship devices with same internal hardware.
[Note: In 2014, HTC One M8 came with Snapdragon 801 chipset with 2GB RAM.
HTC One (M9) aka HIMA- Mobile Operating System:
Early this month, HTC announced new Desire 826 with Android 5.0 Lollipop. So, in all probability, the forthcoming HTC One M9 aka HIMA will run on the latest Google mobile OS and will accompany with custom Sense UI.
HTC One (M9) aka HIMA- Camera specifications:
After getting panned for ultra-pixel camera features in the last HTC One series, the company has reportedly ditched the sub-par photo-imaging technology in the upcoming HTC One M9 model.
HTC is said to use conventional 16mp camera with OIS (Optical Image Stabilisations) and incorporate some value-added photography enhancing features. The company has already released in-house software programmers developed HTC Eye Experience apps to the current flagship models.
The new HTC One M9 too is expected to come with same features out-of-the-box, probably with more apps as well.
[Read More: Android 4.4.4 KitKat with Eye Experience OTA Update Released to HTC One M8]
HTC One (M9) aka HIMA - Battery:
In 2014, 5.0-inch full HD HTC One M8 came packed with 2600 mAh battery, now its successor touted to boast power-guzzling 5.5inch QHD display is said to ship with high capacity 3500 mAh cell.
HTC One (M9) aka HIMA - Value-added features:
Besides classic smartphone design, HTC smartphones are also popular for their HTC Boom Sound dual-stereo speakers. Now, rumour has it that the Taiwanese company will up the ante for One M9 to give enhanced music experience to its fans.
It is learnt that HTC is reportedly in talks with one of the pioneers of audio industry, Bose Corporation, to incorporate finest sound equipment in the upcoming flagship model.
HTC One (M9) aka HIMA - Release details:
As said before, HTC is holding a press event on 1 March, Barcelona. So in all probability one can expect the Taiwanese firm to unveil the new One M9 aka HIMA.
[Note: Its predecessor, HTC One M8 was unveiled in March last year.]
Rumoured Specifications of HTC One (M9) aka HIMA:
| | |
| --- | --- |
| Model | HTC One (M9) aka HIMA |
| Display | 5.5-inch Quad HD (aka 2K: 2560x1440p)Pixel density: 530 plus ppi (pixels per inch) |
| OS | Android 5.0 Lollipop with custom UI Sense v6.0 |
| Processor | 2.7GHz Snapdragon 805 series quad-core processor or 64-bit class based Snapdragon 810 series |
| RAM | 3GB |
| Storage capacity | Expected to come in 64GB/128GB |
| Camera | Main: 16.0-megapixel camera with OIS (Optical Image Stabilizations) feature |
| Battery | Around 3500 mAh |
| Add-ons | Aluminum silicon-carbide based body, Bose audio speakers, microSD card slot, |