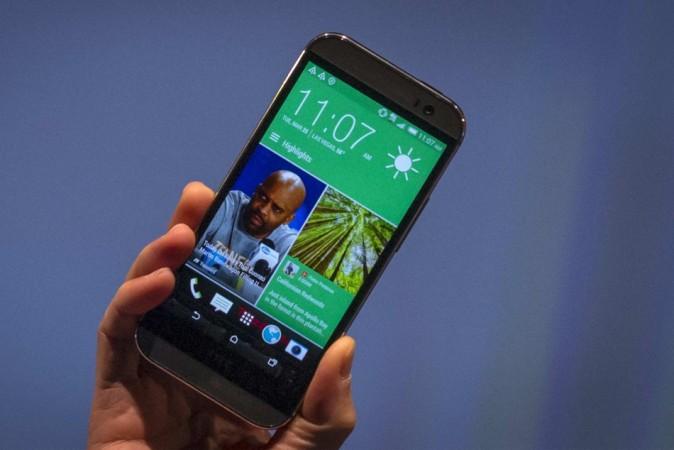 Taiwanese smartphone maker HTC has released the Android 4.4.4 KitKat with Eye experience camera app OTA (Over-The-Air) update to the Flagship HTC One M8.
The Indian arm of the company took to social networking platform Facebook to confirm the news.
"Your HTC #EYEexperience is now available on your #HTCOneM8. Download the update today and while you wait, check out the new features that the HTC EYE experience delivers to your HTC One (M8), #SplitCapture, #VoiceSelfie,#FaceTracking, # LiveMakeUp, #FaceFusion and more, all at your fingertips, " said HTC India's Facebook post.
HTC One M8 owners can check for the update on your device by going to –
Settings >> About >> Software update >> check now
Salient features of HTC Eye Experience include:
Split Capture: This feature lets users snap simultaneous photos/videos from both front and rear-side camera at same time.
Voice Selfie/Auto Selfie: As the name suggests, users can take selfies just by voice-command or in case of auto-mode, they just have to make a smile gesture to activate the camera. There is no need to use finger on the phone, just a smile gesture is enough to take a selfie.
Face Tracking: It gives closer views of up to four faces individually, so that users can see everyone more clearly. As long as the users' subject's face stays in frame, they will get a zoomed-in view as the subject moves around and another option, Screen Share allows the user to share the phone screen in real-time with others on a call. They can send files, photos and even videos on user's screen.
Live Make Up: This camera tool helps users make some skin tone adjustments without affecting the natural look to get a perfect selfie.
Face Fusion: This is photo editing tool, which lets users merge two people's face with hilarious results.
Photo Booth: This helps users capture 4 consecutive photos on a single image.
Crop Me In: This tool helps users to take a selfie and merge them with other scenic picture in the background.
HTC One M7 is also slated to get the Eye Experience very soon in India. The company has advised fans to keep an eye on HTC Facebook page for software update release date details.
Last month, the company confirmed that Android 5.0 Lollipop will first roll out to HTC One M8 and M7 models in early 2015.
[Also read: Android 5.0 Lollipop: Top Key Features of New Google Mobile OS]
Android 5.0 Lollipop brings in overhauled design language, bringing in interactive user-interface, visually appealing graphic design (with bold colours & typography), tactile surface, fluid animation features, replacement of Dalvik with ART as its default runtime and many more tweaks for performance enhancements.