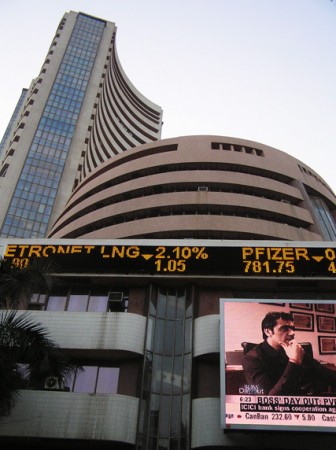 HSBC has cut the outlook for Indian stocks to 'underweight' from overweight earlier, saying that the market is likely to more downside due to poor corporate earnings, limited scope for rate cuts and significant negative impact from El Nino conditions.
The bank sees huge scope for capital outflows from the country, as foreign investors buying of domestic equities looks stretched.
"India remains one of the most over-owned markets in Asia, but earnings growth is slowing and there is little room for further rate cuts," HSBC said on Wednesday in a note to Reuters.
The investment bank chooses to stay away from the markets at current levels and looks to re-enter the markets if they decline by another 10 percent.
The Indian stock markets have been trading highly volatile for the past few sessions on controversy over the Minimum Alternate Tax (MAT) on overseas investors. The government has asked them to pay MAT on long-term capital gains from equities earned previously.
The bank sees no sign of rebound in India's capex cycle and says the country has recorded the highest number of earnings downgrades in the region.
"For earnings expectations to recover on a sustainable basis, they would need to see a recovery in the capex cycle and credit growth, but that is not visible yet. While reforms have been put in place, it might take some time before they impact corporate earnings," HSBC told The Economic Times.
Easing inflation and subdued growth may offer little scope for rate cuts by the Reserve Bank of India (RBI) in its next review meeting in June, but the bank sees little room for rate cuts from next year.
"Rate cuts beyond 2015 and in the run up to RBI's inflation target of 4% in early 2018 will depend on the government's structural reforms. If they are coming, there could be further space to cut. But if not, the RBI may just have to sit tight," said Devendra Joshi and Herald van der Linde, analysts at HSBC.
Absence of rate cuts will provide little liquidity to the corporates weighing on the economic growth in the country.
Lack of investments has led to companies reporting lacklustre earnings in the last fiscal year, with 396 companies showing a fall in revenue by 7 percent and profit by 6 percent on yearly basis, Firstpost reported citing a research note by SBI.
Besides, the bank is concerned about the adverse impact of El Nino phenomenon on monsoon rainfall. El Nino may lead to poor monsoon rainfall during June-September, resulting in causing more damage to the agriculture sector, which is already hit by unseasonal rains.
A second consecutive year of deficient monsoon rainfall would deepen the rural distress, in turn reducing the rural demand.