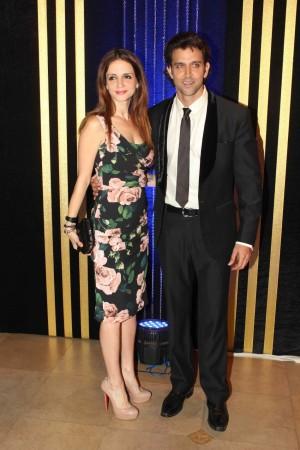 Hrithik Roshan and Sussanne's announcement about their split has come as a shock to many of their fans. But Sussanne's father Sanjay Khan has said that their decision was not "closure".
Soon after the news of Hrithik and Sussanne separation surfaced online, Khan clarified saying that the couple needs some space to sort out their issues.
Hrithik in a statement on Friday said that Sussanne has decided to end the 17-year-old relationship.
"Sussanne has decided to separate from me and end our 17-year relationship. This is a very trying time for the entire family and I request the media and the people to grant us our privacy at this time."
When asked about the separation, Khan explained that the duo they respected each other and thought of splitting to solve their problems, but it's not a closure.
"Like any other normal couple they also have some issues. Just because Hrithik is a superstar, doesn't mean he will not have personal issues. They both are intelligent and wonderful people. It's just that they need space. Of course this is not a closure," Khan told Press Trust of India.
"They respect each other. To resolve issues, may be this is what they thought was good."
Hrithik and Sussanne got married in 2000 and have two sons - Hrehaan, 7, and Hridhaan, 5. Their relationship was going through a rough patch from quite a few months.
There were reports that Sussanne is not happy with her in-laws and even Hrithik was not supporting her enough. [Read the report here] The couple has confirmed that they are parting their ways, but have not mentioned any specific reason for the separation.