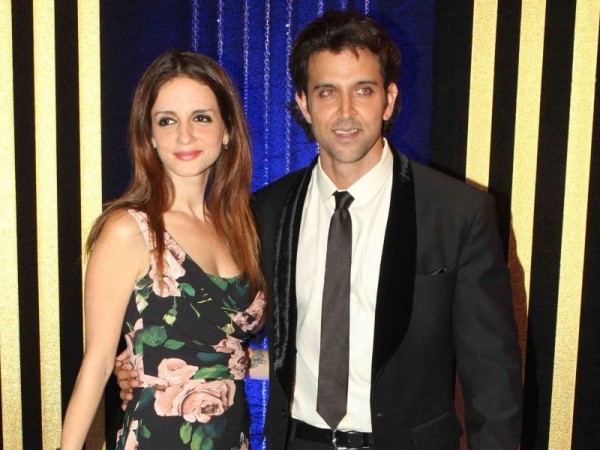 Hrithik Roshan and Kangana Ranaut's intimate picture from a party, which had surfaced online recently, appeared to be morphed, after some other photos from the event were released. Hrithik's ex-wife Sussanne Khan too took to Twitter and shared a new picture from the party and said the initial leaked image was photoshopped.
Sussanne in her tweet said the stories related to Hrithik and Kangana's picture are untrue, and expressed her support for the actor. "pictures are photoshopped and untrue stories carry 2 much weight.another pic for d rec. I support @iHrithik in this. [sic]," Hrithik's former wife tweeted.
Earlier, a picture had appeared online that showed Hrithik embracing Kangana at a party. The picture gave the impression that it was a private party and the two were having a private moment.
However, some new pictures from the same party came up revealing that many other celebrities were present at the event, including Hrithik's then wife Sussanne. Celebrities like Arjun Rampal, his wife Mehr Jesia, Dino Morea and Nandita Mahtani were also part of the party. All of them had posed together for a number of pictures.
Hrithik Roshan-Kangana Ranaut's intimate picture a lie? New images show Sussanne Khan at party [PHOTOS]
"In her desperation to prove that she had something to do with Hrithik Roshan, Kangana has done the unthinkable. She has used a distorted picture from a party to prove her point. In the same party, Hrithik's ex-wife Sussanne was there with whole lot of common friends. All of them hugging each other and taking a jovial group picture. A group picture has been zoomed in to give an impression that Kangana was in a personal relationship with Hrithik," a source had told International Business Times, India.
On the other side, Kangana's lawyer, Rizwan Siddiquee had told IBTimes, India he had shared just one picture of Hrithik and Kangana to a channel and has no idea if anyone has doctored the image.