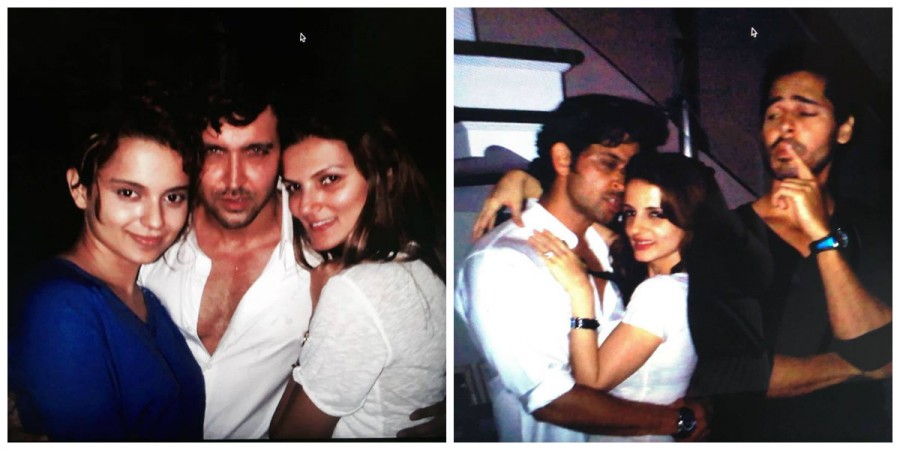 Hrithik Roshan and Kangana Ranaut's leaked photo from a party, which showed the actor embracing her, is apparently doctored. The leaked picture suggested it was a private moment between Hrithik and Kangana, but some new photos have come up which reveal the party was attended by many others, including Hrithik's then wife Sussanne Khan.
The leaked picture had only Hrithik and Kangana in the frame, the former hugging the actress from behind. However, International Business Times, India, has got hold of some more photos that show it was a group party and the actor is seen having fun with many others at the event.
IBT Media is in possession of some pictures from the party that show the "Mohenjo Daro" actor's then wife Sussanne was also present at the party. Stars like Arjun Rampal, his wife Mehr Jesia and Dino Morea were also part of the celebration.
One of the photos shows Hrithik hugging Sussanne, and in another picture Hrithik is seen sharing the frame with Kangana and Nandita Mahtani.
Here is the picture that had surfaced earlier suggesting that Hrithik and Kangana were having an intimate moment at a private party.
"In her desperation to prove that she had something to do with Hrithik Roshan, Kangana has done the unthinkable. She has used a distorted picture from a party to prove that point. In the same party Hrithik's ex-wife Sussanne was there with whole lot of common friends. All of them are hugging each other and making a jovial group picture. A group picture has been zoomed in to give an impression that Kangana was in a personal relationship with Hrithik," a source told IBTimes India.
"These pictures that are from the same night of December 2010 tell the whole story. We are living in strange times where a girl has been speaking lies about verifiable facts and selling them to media. And all this just for the sake of somehow proving that she had something to do with Hrithik Roshan," the source added.
A report in the Hindustan Times said the leaked picture was doctored as it did not show a person's hand standing behind Hrithik and Kangana, which is visible in the original photo. IBTimes India contacted Kangana's lawyer, Rizwan Siddiquee, who said he had shared the original picture and he did not know if someone had doctored the image.
"I have shared the photo with just one channel and it had the person's hand behind Hrithik and Kangana. I don't know if anyone has doctored the photo. We don't need to hide anything," he said.
He refused to comment when asked about the emails sent from Kangana's ID to Hrithik.