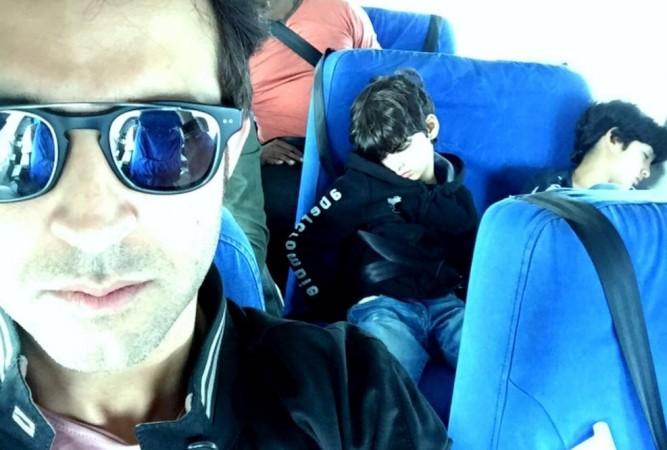 Bollywood actor Hrithik Roshan escaped a terrorist attack at the Istanbul Ataturk Airport in Turkey. The actor revealed in his Twitter post about how he and his kids, Hrehaan and Hridaan, escaped the attack, in which several were killed.
Post IIFA Awards 2016, which was held in Madrid, Spain, Hrithik went to Africa along with his kids for a small vacation. While returning from Africa, Hrithik had to take a connecting flight from the Istanbul Airport. He missed his connecting flight to Mumbai and was stuck at the airport as he could not get tickets in the business class. After staying at the airport for a day, he took economy class tickets and flew out of the airport.
Hours after he left, a terrorist attack took place at the airport, in which at least 36 people are reported dead. When the "Mohenjo Daro" actor heard about the terror attack, he immediately took to Twitter and explained about his escape.
"Missed connecting flight at Istanbul n wer stuck at airport next flight ws next day,but took economy n flew out earlier. #Prayers4istanbul," he tweeted, adding: "Ws helped by d kindest staff at Istanbul arport hours ago. Shocking news. Innocents killed 4 religion.V must stand united against terrorism."
The incident took place on Tuesday night after three terrorists armed with bombs and guns attacked passengers at Istanbul Ataturk Airport. The attack killed 36 people and injured several others, BBC quoted officials as saying.
"The bombs that exploded in Istanbul today could have gone off at any airport in any city around the world," BBC quoted Turkish President Recep Tayyip Erdogan as saying.